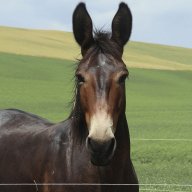 Joined

Jun 11, 2017
Messages

2,410
What's the blue stuff under Wyoming.
It's the hot water that feeds the geysers.
Actually, I think it's the active (youngest) part of the Yellowstone hotspot.
ETA: The redite and blueite are different responses from the tomography and nobody really knows for sure why - some think it's temperature differentials, some think density variables, etc. As you can guess, I don't know much about mantle physics.
Last edited: