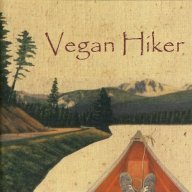 Joined

Jul 5, 2014
Messages

2,099
Last weekend I had 3 days to backpack and began the Great Range Traverse. This is a 25 mile hike over rugged terrain summiting 11 different peaks and gaining over 10,000 feet in elevation. This hike was listed by Backpacker as the 3rd hardest dayhike in America in this article
http://www.backpacker.com/trips/wyoming/grand-teton-national-park/america-s-hardest-dayhikes/2/
. I set out to do this hike over 3 days with a bailout option to do half and come back another weekend for the other half. Unfortunately I took my bailout option as the terrain was much slower that I had anticipated . My slower than expected pacing threw off my planned campsites and water sourcing; finishing in 3 days would have been possible but cutting it close and the clouds began rolling in which factored into my on the fly decision to split it into 2 weekend trips.
In the 2 days I was out there I ended up summiting 6 peaks (Rooster Comb, Hedgehog, Lower Wolf Jaw, Upper Wolf Jaw, Armstrong and Gothics) and climbing 7k in elevation. I was hoping to return this weekend to finish the remaining 5 peaks (Saddleback Basin, Little Haystack, Haystack, and Marcy) but the forecast isn't looking like it will pan out. I have a family vacation the following weekend so I might have to wait until early September.
The red part of the route below is what I need to go back and finish, the yellow is what I did. I'm basically ending up doing the Lower Great Range and Upper Great Range in two separate hikes which is another common way of doing the Great Range.
It wasn't the 7k feet of elevation gain really that slowed me down, it was the constant, unrelenting steep rock face cliffs. Lots of tossing your pack up and over stuff, lowering your pack with cordage, chucking poles, over and over again. I climbed a good part of a tree to advance up the trail at one point. I have no idea who these maniacs are that can dayhike this kind of stuff. Whoever they are, I'm certainly a cupcake by comparison, because I was totally out of gas just doing half in 2 days.
Here are my Gaia stats for the 2 days. I forgot pause recording when I set up camp so the time profile is off.
Day 1 turned out to be a beautiful day. I drove up the night before and set my tent up on the outdoor deck of the hiker hostel I stayed at. I was also able to get a shuttle by the hostel since I was starting and ending at different trailheads.
The trail started out with your typical Adirondack scenery.
A few shots from Rooster Comb Mountain
I honestly didn't take any good pictures of the really challenging sections of trail but this show the general rough nature of the trail. Definitely not a trail you could run on.
I believe this is Upper Wolf Jaw in the back and a false summit of Armstrong in the front
I thought this picture below was interesting because it shows how the trails in the northeast sometimes feel like tunnels. That tunnel looking opening on the bottom left is the trail that led to this open rock face.
Gothics viewed from Armstrong
A panorama from Armstrong
A part of the ridge that the trail follows on the way to Gothics
I hated to have to do this, but because of the unexpected pacing and an unexpected late start I had to stealth camp near the summit of Armstrong
On the bright side there was a nice lookout nearby
The lookout the next morning. As you can see the clouds were rolling in
Entering a section of alpine tundra
Unfortunately it was very cloudy on day 2 which also factored into my decision to come back another weekend for the last 5 peaks
Despite that the clouds were robbing me of the views, it was pretty cool walking the ridge line in the fog
Since us northeasterners don't know how to do anything technical, the descent from Gothics has some cables for repelling a few hundred feet down the rock face.
After cruising down backwards pretty fast for a bit I was a little spooked to see that the cable was broken in a few spots. Luckily I noticed before unexpectedly running out of line.
So as I already mentioned I bailed early and ducked down below the clouds on a shortcut back. I hopped along a few pretty boulder strewn brooks.
Now this was quite odd. This girl I ran into about a mile from my car looked to have some pretty unconventional backpacking equipment.
Turns out she was one of the teens who worked for the ADK lodge about 3 miles up the trail and was bringing up food supplies.
Featured image for home page: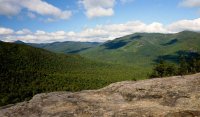 Last edited: