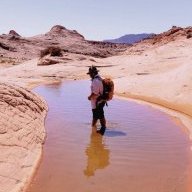 Jurassic Dust in my Bones
Joined

Mar 9, 2012
Messages

402
I just talked to a buddy of mine that works for the BLM over in Escalante and as it is right now, all Garfield County maintained roads are CLOSED. Hole In the Rock, Cottonwood, Skutumpah, Old Sheffield Road, Hell's Backbone, Smokey Mountain Road, etc. are all CLOSED and impassable until the county crews get out to repair flood damage.
The Circle Cliffs and Burr Trail areas did not get as much rain, but I have not heard if the Wolverine Loop Road is open or not yet, my guess is that it is NOT.
Even the Park Service and other federal agency people have not been able to get out yet to completely determine the damage.
I visited the Escalante River trailhead today to check conditions and it flooded the entire flood plain up to the parking area and also took out the bridge that crosses Calf Creek at the confluence.

Hope this info helps any of you that have been working on plans to come visit the area anytime soon.

I'll try to post updates as I find out more.