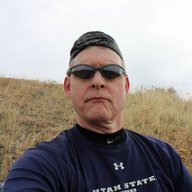 Joined

Dec 23, 2013
Messages

1,409
Hey

@scatman

- here's a great idea for you - you could quit your job before you retire! Make up a bunch of plastic license plates for Montana and sell them to visitors - and the plastic probably wouldn't register on police/traffic cameras, either. Yes, I know, I'm a genious! Or however it's spelled...
@Rockskipper
, I am officially eligible tomorrow! Yippee!!!!! And yes, you are a genius.
Plastic license plates huh? Can each one of them say Scatman on them? A state full of Scatmen! Can you picture it?
Last edited: