Joined

Feb 23, 2012
Messages

646
Well... after putting together
the video
for my Boulder Mountain to Moab hike back in May, things got a little crazy for me and I didn't follow up with a full trip report. With 2013 winding down, I made myself sit down and put it all together this past weekend.
The 18-day, 283-mile hike was quite the experience. In many ways it was a very
miserable
experience. BUT... despite the adversities, I still managed to have a
great
time. By the end of the hike I was calling my state of being "Miserably Wonderful." It was a strange case where so much went wrong with the route, the weather, my gear... but despite all of it I kept marching forward and had a really enjoyable trip. I think this is a testament to the magnificence of southern Utah and its effect on the body/soul. And... since my body held up with just the normal blisters and bruises, I'm already thinking about next year!
In the trip report I tried to capture a lot of detail. I split it up into 4 sections and included a photo gallery and detailed map for each part marking route difficulties and water sources. I'm not going to re-create all that here, but if you are interested in the day-by-day minutia check it out on my site:
Across Utah: Boulder Mountain to Moab
But, I will use this space to share some/many of the highlights with a bunch of pics.
Thanks,
- Jamal
Setting out from the Homestead Overlook on the upper slopes of Boulder Mountain:

Walking along the rim of Upper Gulch: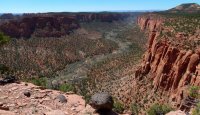 Day 2 and already an unexpected obstacle -- the climb down from near Impossible Peak:

Mr. Shadow following the cattle trails along the Circle Cliffs: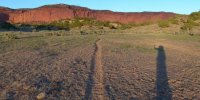 Problem #2 -- no water at Onion Beds or anywhere in Upper Muley Twist:

But otherwise Upper Muley Twist was spectacular: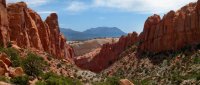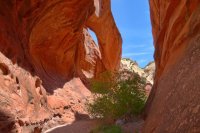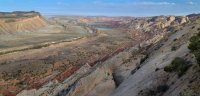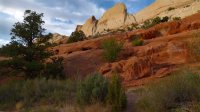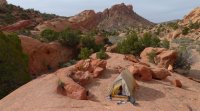 This balanced rock was a fun surprise en route to the Henry Mountains:

Seems like I always attract bad weather in the Henrys. Rain, hail, fog and eventually snow forced me and my "spring" gear off the planned route: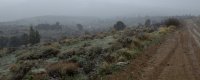 The improvised route down around Ragged Mountain via Slate Creek, Ragged Canyon and Psyert's Hole was a fun adventure.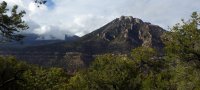 It even led me to my first visit to Little Egypt: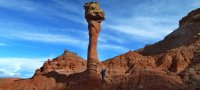 From that point the sun came out and I was happy. Happy in Happy Canyon: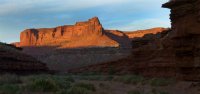 The route up and out was a bit more of an adventure than Kelsey's "easy to follow" would have you believe: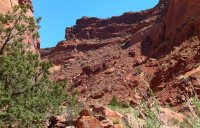 Once past Hans Flat, the great view of Millard Canyon: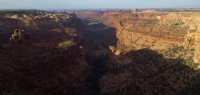 En route to the Maze, flowers were in bloom and bugs were endulging: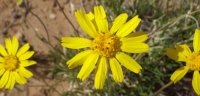 One of my favorite views around:

I enjoyed Pete's Mesa Route, but was bummed to miss Water Canyon (yet again) to get to Spanish Bottom on schedule: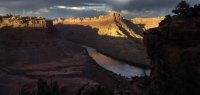 The climb out of Little Spring Canyon and the unique arch near Lower Jump: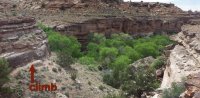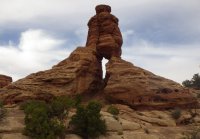 The route to, through and past Indian Creek is spectacular and deserves more time: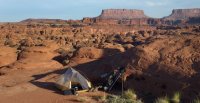 Possibly my biggest feel-good moment of the trek, finding my own route out of Lockhart Basin to atop Hatch Point: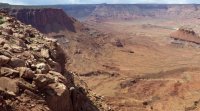 After another storm (or two) it was down Trough Springs Canyon toward Behind the Rocks: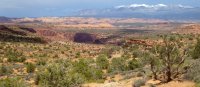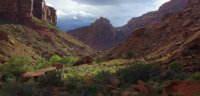 My final climb up to Behind the Rocks wasn't meant to be. Despite having scouted a route previously, late in the day I ended up getting ledged out near the top and had to retreat to Kane Springs Canyon:

Out of time on the final day, I opted to walk the road down to the Colorado and then up to the Moab Rim Overlook. Mission accomplished -- time for burgers and beer!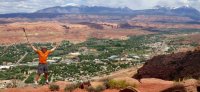 Featured image for home page: