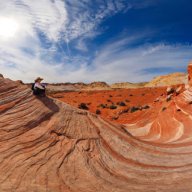 Joined

Aug 18, 2018
Messages

1,561
Sometimes duty calls.... Rick was on call for federal jury duty in the whole month of January 2018. He was then excused from a week of local county jury duty, which he received and postponed in November 2017, while we were on a
8,000 miles out and back road trip with our car to Utah, Arizona and Colorado
. So with the jury duty squared away for the next 6 years, we immediately flew out west and spent 3 weeks on a road trip in Arizona.
There is never enough time out West
.
With such short notice Las Vegas was the only affordable airport for flights and car rental. Phoenix would have been better to fly into for this 3 week trip, but it was too expensive. We arrived very late and stayed in a
"non-casino hotel"
in Henderson, east of Vegas. The next day the weather was incredible, sunny and warm, so we decided to drive to Sedona first and arrived in the
Village of Oak Creek, south of Sedona
about 5 mins before the start of the Superbowl 2018. Yeah.... great timing! We hiked every day for 4 days - our favorite trails are
Munds Wagon / Hangover trail loop and Hi-Line / Templeton Loop
). Friday arrived and to escape rain, very cold weather and Sedona week-end crowds, we drove to
Willcox, AZ
and we hiked 2 sunny days in
Chiricahua National Monument
. We then spent the second (rainy) week in the area of Tucson (this report), followed by a drive to
Darkening Clouds over Organ Pipe Cactus - Border US / Mexico
) and finished the trip with a park that we previously underestimated,
Valley of Fire State Park
in Nevada (to be continued later).
Sunday February 11, 2018
(the second Sunday of this almost 3 week trip), we drove from Chiricahua to
Tucson.
Here we got the full experience of the
special fragrance in the desert,
when it rains: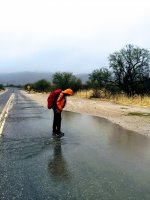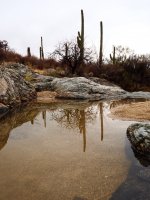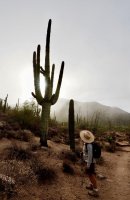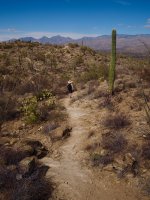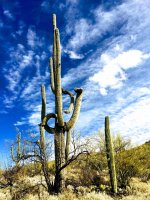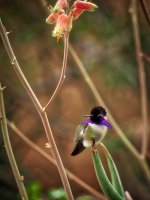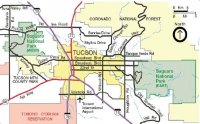 Monday February 12, 2018
:
Douglas Spring Trailhead (East Tucson, east end of Speedway Blvd, (EAST) SAGUARO NP)
. This a clearly a "favorite local's spot" for a walk, hike, run or horseback riding. There is a horse trailer parking lot with trails just before Douglas Spring TH. We hiked a loop starting on Douglas Spring trail to Three Tank to Carrillo, to Wildhorse to Garwood and ended back on Douglas Spring trail. It starts low in the desert forest and climbs slowly into the foothills of the Rincon Mountains. It has beautiful views over Tucson and the surrounding mountain range. At some height you loose the Saguaros and they come back somewhere on Three Tank trail going downhill. The Wildhorse and Garwood trails are amazing- full of desert life. Still a beautiful sunny day.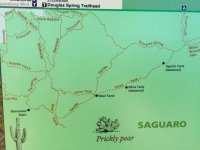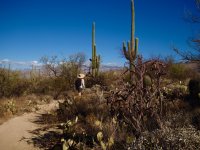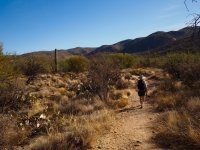 Beginning of Douglas Trail:
In the foothills (just up from Douglas Spring trailhead), looking back over Tucson
Almost at the split between Douglas, Bridal Wreath Falls trail and Three Tank trail, notice there are no Saguaro. Tucson hadn't had rain for months, so we skipped the 'falls'.
I believe this is split between Three Tank and Carrillo. Confusing point, as there are several social trails running to an old holding tank and other trails to viewpoints.
Think this one is on Carrillo trail.
Dead Saguaro
Almost back to the car- this is probably on Garwood trail.
Tuesday February 13
:
Loma Alta Trail TH, Hope Camp trail (south of SAGUARO east NP,
- on the edge of the park and looking up at the
Tanque Verde Ridge
trail. Big sign with "Risk of Africanized Honeybees" - great.....! The Camp Hope trail has beautiful views of the Rincon Mountains. This became a day where I kept staring up at the
Tanque Verde trail
, bummed, that we were not up there.
Our favorite ridge trails is the
Hugh Norris
ridge trail on the West side of Saguaro NP (description follows, hiked it a few days later), but sometimes you have to try something different. The Camp Hope trail is way too wide and kind of a slog in the heat.... but we were intertained by some dead Saguaros and some very large Saguaros. We aborted the hike once we were over the hill and could see into the valley in the distance. We returned to the car and did the touristic scenic
Cactus Forest drive
with
Javelina Rocks and many stops
. On the scenic drive we encountered lots of commotion and ranger cars holding traffic back. I believe it was a biker who was followed or attacked by a rabid fox.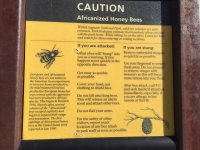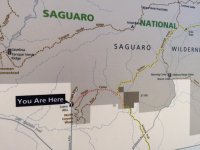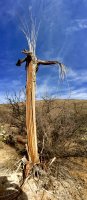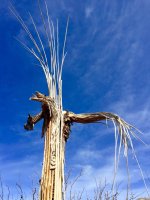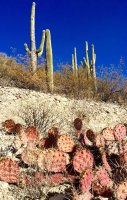 Very jealous of this pretty entry gate - always wanted something similar to that.
Along Camp Hope trail :
The point where we turned around and aborted the hike:
Dead Saguaros :
Here are a few pictures from the scenic
Cactus Forest Drive in (East) Saguaros NP
- (but it's better to hike the park from Douglas Spring TH).
We had to take a picture of the bike sign..... and we saw a lot of bikers in there: "Narrow, fun, hilly bike/car loop avoiding tourist opening car doors, having rabid foxes attack and nose diving off bikes". I figure the sign is there because a tourist made a nose dive off a bike at some point, because never as a biker have I seen such a sign anywhere in the world. At
Javelina Rock
Rick did an extended photoshoot to create 360 sphere and multi-shot panoramas. I waited patiently, for a very long time.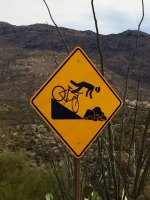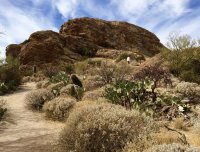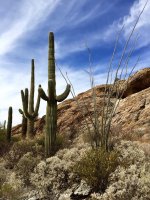 February 14 & 15
: Back to
Douglas Trailhead
again. We did several trails. It was cloudy on Wednesday morning Feburary 14 and it started raining when we got back to the car. It rained non-stop all afternoon, through the night and most of the day on Feb 15. We squeezed a walk in Wednesday morning and Thursday afternoon. It was Thursday late afternoon we had the
wonderful desert fragrance smell
.
Here are some photos: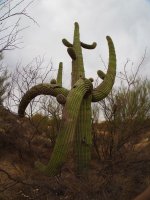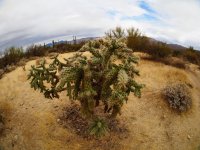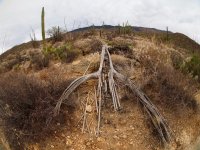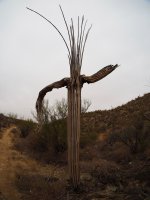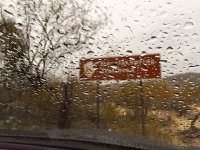 Fisheye view :
Multishot Panorama:
Fisheye view:
Thursday February 15 late afternoon pictures, rain, fog, dew, pools of water everywhere and tons of reflections off trail in the wash
: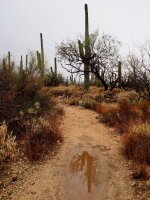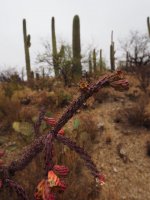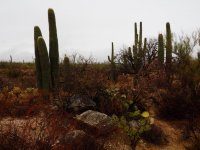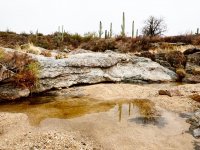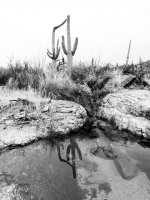 Here is Rick in Tucson- somewhere between the horse trailer parking and our car at Douglas Spring TH:
Friday February 16
: - We drove back and forth to
Phoenix to see the Desert Botanical Garden
. We have a membership and if you want to put just 1 botanical garden on your list, then this is the one.
World famous and outstanding huge 140 acres outdoor desert garden with tons of cacti, flowers etc
. And of course the weather was clearing in Phoenix, so we did that instead of hiking more in the rain. We spent a lot of time with a
Costa's Hummingbird:
an entertaining, territorial, colorful hummingbird.
Here is a link to a fascinating and hilarious video of
a male attempt to lure a female.
Who knew any hummingbird could become an
iridescent purple spaceship!
https://www.pbs.org/video/nature-brilliant-costas-hummingbird-male-tries-woo-female
Costa's Hummingbird in Phoenix
:
SATURDAY FEBRUARY 17- 2018
: Hiked a 10 miles ridge trail, called
HUGH NORRIS TRAIL in (WEST) SAGUARO NP
.
sorry.....
this is getting very long- will be continued later and I will make a separate trip report of our favorite hike in Tucson.
CONTINUES HERE: Wasson Peak
https://backcountrypost.com/threads...-trail-tucson-mountains-saguaro-np-west.8013/
Last edited: