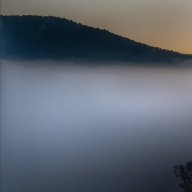 Joined

May 19, 2012
Messages

1,806
One persons graffiti is another persons art.
The Spiral Jetty was only visible for a short time in 1970 when it was created, and then it was submerged for 30 years.
Was it graffiti when it was submerged? It was designed to appear and reappear. That is what I really like about it.
As far as the "monolith" goes, I think it is beautiful.
Most likely a minority opinion.
Are legal mines and drill rigs, let's say above Labyrinth Canyon or Grand Gulch, acceptable as some have said? But a small illegal piece of steel that can easily be removed is unacceptable?
Our government is legally desecrating our environment right this second and very few people (as a % of the population) know about it or really care.
Yet some person inserts a piece of steel into a stone alcove in Utah and the whole world goes ape shit.
Last edited: