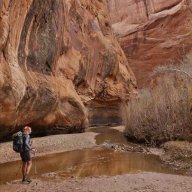 Joined

Jan 4, 2015
Messages

2,377
@LarryBoy

I don't think it is a slippery slope:

"an idea or course of action which will lead to something unacceptable, wrong, or disastrous."

Nothing unacceptable, wrong or disastrous will come of this.
He's arguing that to condone the (illegal) removal of the monolith means that, logically speaking, we must also condone burning of historic structures, ripping out the Angels Landing chains, etc. That's classic slippery slope fallacy right there.