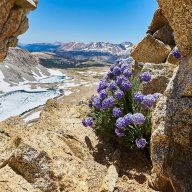 Joined

May 16, 2016
Messages

1,170
On a 14 hour drive to FL yesterday, my wife and I started talking about driving out west next summer to see my sister in CO and then up to Yellowstone. I am aware of the "big stuff" in the park (Old Faithful, Grand Prismatic, ...) and I have some idea of potential backpacking ideas that I would like to do in the future (Thorofare, Belcher, ...) but my wife is not a backpacker and hates the cold and I don't know much about the park beyond the obvious. So, this is going to be a family/tourist trip to see the highlights of Yellowstone without backpacking. We are thinking about mid-June after kid's school finishes and my wife hates the cold, so that likely rules out a campground as well.
My sister lives outside of Boulder so we would probably drive to the Grand Teton area for a couple days and then up to Yellowstone for 5ish nights. Where would you stay if you were not camping? West Yellowstone? Gardiner? A lodge in the park, I hate spending money, but my wife doesn't mind
?
My question to you is what should be on our list in Grand Teton, Yellowstone and the surrounding GYE? My kids are going to be 12, 10 and 8 and are generally good hikers, my wife is a reasonably good hiker but not as enthusiastic as I am
Also, I know there are going to be crowds (hopefully not as bad as mid-August) but that is the way it is. My hope is getting a mile down the trail will thin out most of the people. So what would be some good dayhikes in the 5-6 mile range.
I've already re-read these trip reports
https://backcountrypost.com/threads/family-yellowstone-trip-august-23-25-2019.8818/
and
https://backcountrypost.com/threads/familys-first-visit-to-yellowstone.9040/
by
@swmalone
and
@WasatchWill
and I've read a ton of
@scatman
's backpacking trips
Short version
1) Where to stay in Grad Teton and Yellowstone if not camping?
2) What to do in Grand Teton and Yellowstone beyond the obvious (Old Faithful, ...)?
3) Anything obvious in the surrounding area (GYE) for a family?
Bonus question: If I wanted to do a fun 2 night backpacking trip with the kids (20 miles max), what would you suggest?
Bonus X2 question: what would you do on the way back to KY if you were going to stop a couple times? Google maps shows 25 hours going though NE or 26 hours going through SD so either way works. My gut reaction is drive the first day to the Black Hills/Rapid City area and then on to Sioux Falls because my wife and I enjoyed those cities/areas 20 years ago.