Joined

Jul 23, 2013
Messages

1,655
After my first visit to Yellowstone National Park two years ago as a leader for our local scout trip, I couldn't wait to bring my family back and show off some of the amazing geo-thermal features and waterfalls. Rather than push for it the next year, we opted to wait an additional year, making it happen this past year.
Day 1
Wednesday - July 24, 2019
On our way up into the park, as we drove through Idaho, we took a little detour to check out Mesa Falls. Basically there are two great times to visit: early in the morning just after sunrise when the eastern sun can create a rainbow across the mist, and in the afternoon, when the sun now shining in from the west can create some really cool mystical rays through the mist. We discovered this for ourselves with out own afternoon visit.
The area Fireweed flowers were in full bloom.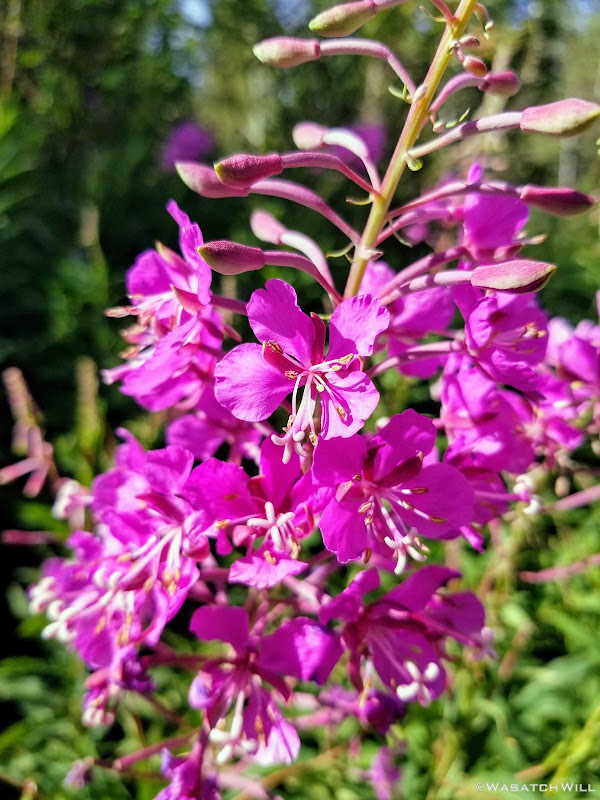 That evening, we arrived at our camp at Grant Village and got right to work with setting up and getting dinner made.
Day 2
Thursday - July 25, 2019
We started off the next day with a visit to non other than Old Faithful. While we waited for the next eruption, we toured some of the visitor center exhibits.
And then it was time to make our way out to the observation area for the old reliable world famous geyser.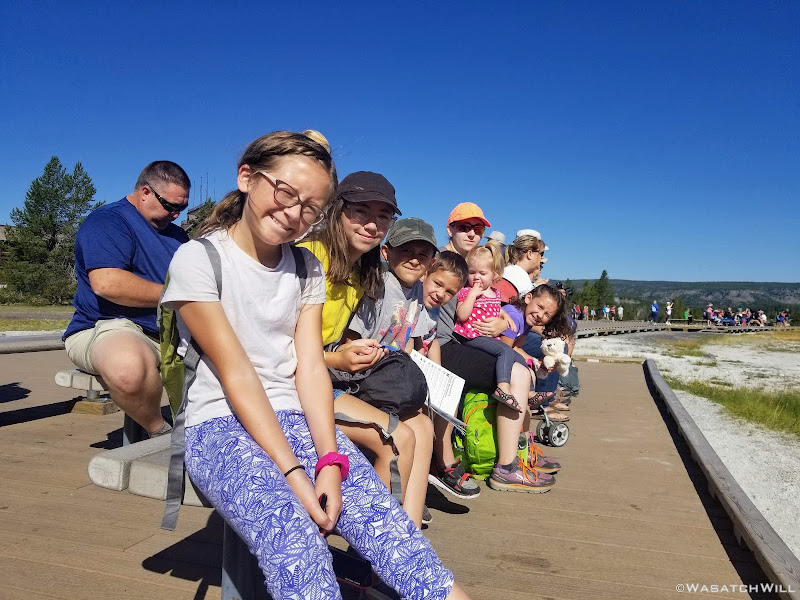 After the standard affair of waiting and watching, we were treated to the show.
Once the eruption was complete we made our way up and around the little Upper Basin loop.
Just as we were about to pass by Lion Geyser, it came alive and put on another little show for us.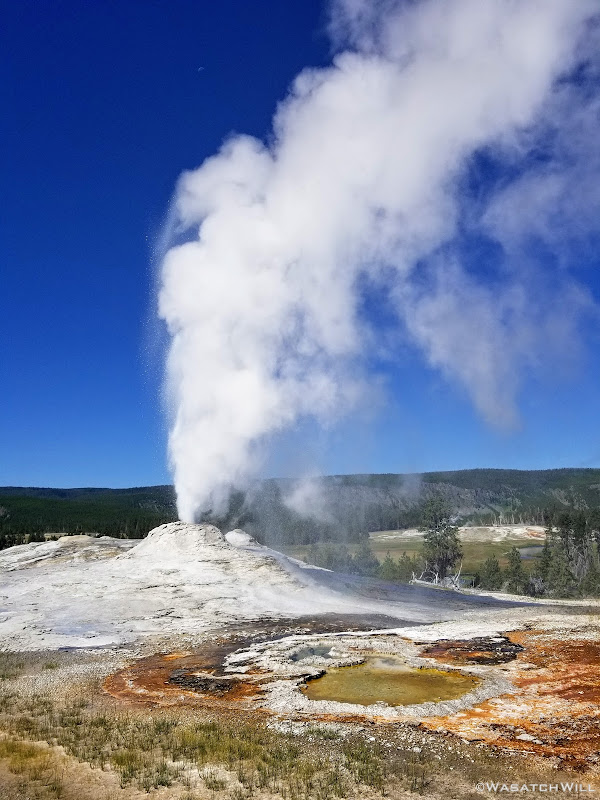 On our way out we checked out the lodge a bit before coming back out just in time to see Old Faithful go off again. This time, from a little farther back.
From there we drove on down and around the Firehole Lake Drive loop, checking out some of the features along that drive, including Firehole Spring.
Following Firehole Lake, it was on to drive the loop along Firehole Canyon to check out Firehole Falls.
Stopping to swim a bit at the Firehole swimming area would have been fun had it not so crowded. Trying to find a legal and adequate parking spot would have been too much of a chore. So we moved on to back up the road to Nez Perce Crossing for lunch.
While there, the kids enjoyed a stroll out into the creek and found some interesting mussel shells. I'm not sure if these were native or not, but after finding some info on native freshwater mussels up in neighboring Montana's creeks and rivers, I'm guessing these are among those native species.
We then made a drive back to camp, making a quick stops along the way. Since our youngest ones fell asleep pretty quickly, I stayed back in the car while Jess and the older kids made a quick tour of Black Sand Basin, so no pics from me on that one. I had already seen it all on my prior visit.
We then pulled over for a quick look at the Kepler Cascades and Shoshone Lake Overlook pull-outs.
At the Shoshone Lake Overlook, the lake could be barely made out in the distant forest. Instead, the view of the Grand Tetons a little further above on the horizon was much more appealing to me.
Back at camp, we opted to spend the rest of the afternoon out on the shore of Yellowstone Lake. On my last visit with our scouts, we never had issues with leeches, but they were very much out and about when we arrived for this beach visit. Between them and all the bugs flying about, it was not the most enjoyable experience, but we made the effort to get there so we were not easily dissuaded. The kids took turns riding and paddling our inflatable boats while others would stay on shore and play in the sand.
We also took some Mountain House packets a long and a backpacking cook kit to make dinner for everyone on the beach there.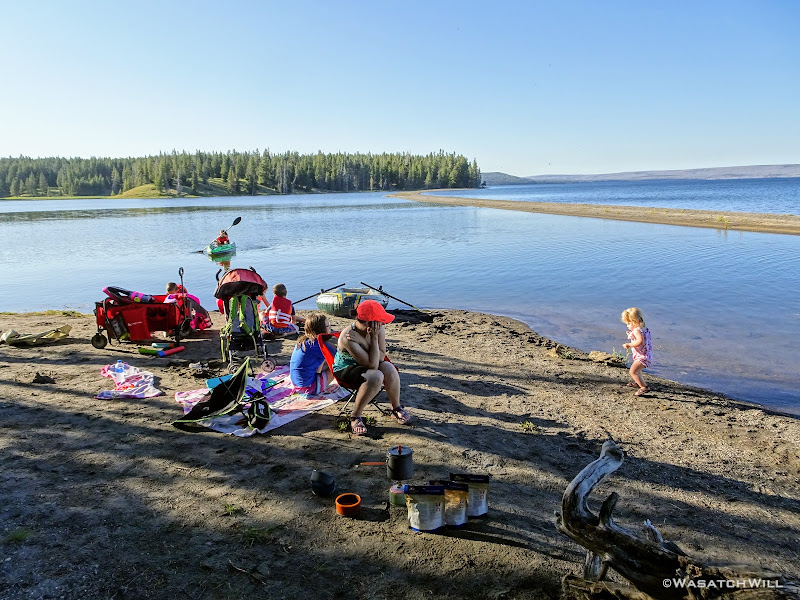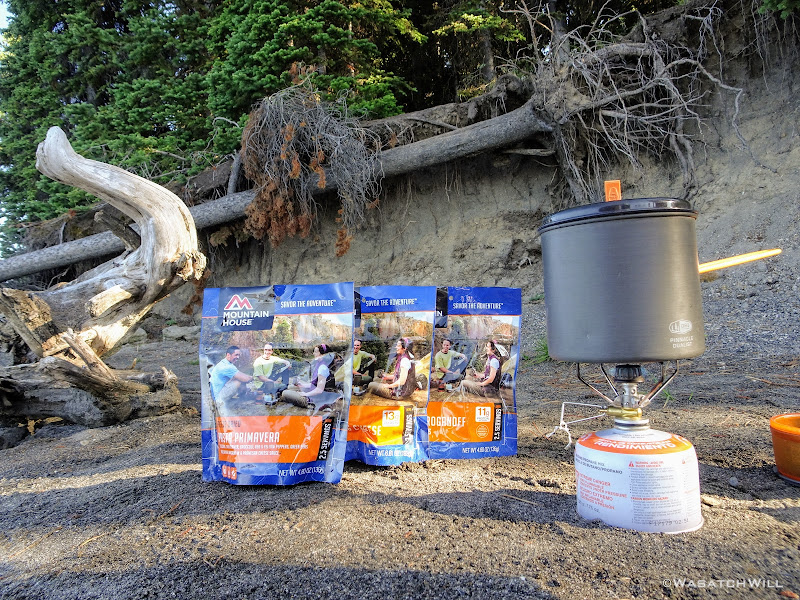 The rest of the evening was spent back at camp cleaning up and settling in for the night.
Day 3
Friday - July 26, 2019
We began our final full day in the park with a drive up along the lake and around the lower half of the Grand Loop. As expected, as we approached the area of Mud Volcano and Hayden Valley, some of the Park's bison could be seen out roaming around alongside the road.
We made a brief stop to see Mud Volcano and Dragon Mouth Spring.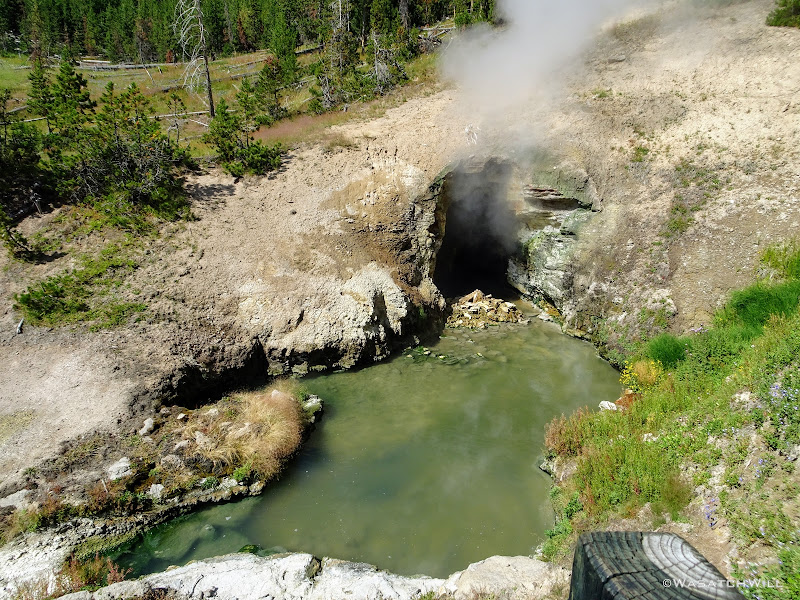 We made another quick pull-out to take in the view out across Hayden Valley.
And then it was on the Artist Point to take in the view of the stunning Yellowstone Canyon and the Lower Falls.
On our way back out form Artist Point, we had flirted with the idea of pulling over to see if Uncle Tom's Trail was open again yet, and so we did, and found out it was still closed. Probably for the better anyway. I don't think some of the kids would have enjoyed the stair workout that would have been. We did get in a view of the Upper Falls though.
Then, it was back out and over to the other side of the river where we pulled in for a hike down to the brink of the Lower Falls to enjoy the majesty of the Lower Falls from platform right on their edge and view the spectacular canyon from upstream.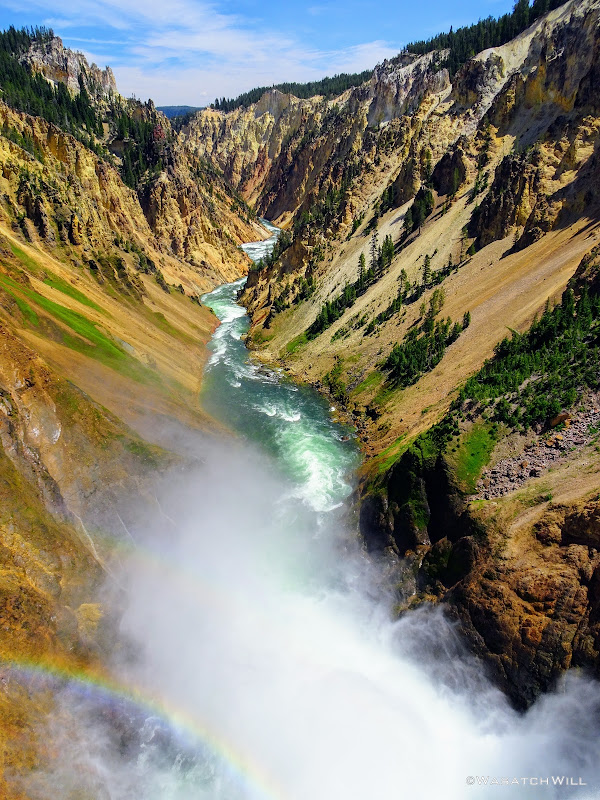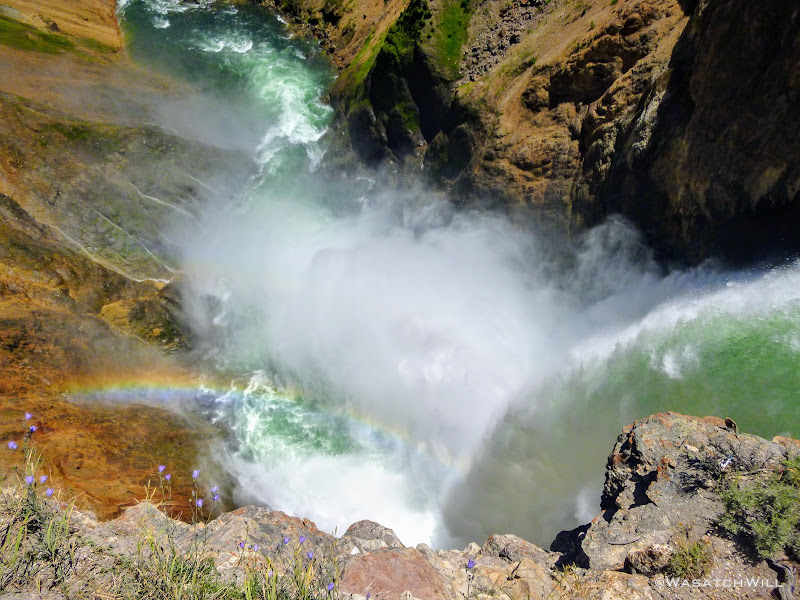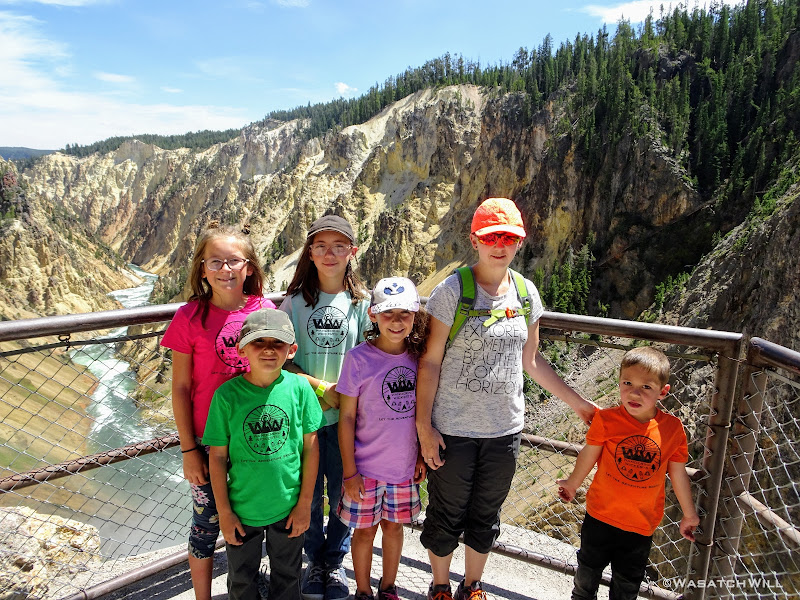 After that, we made the short drive out to see the view from Inspiration Point, but only Ellory and I were interested in stepping out of the car for that.
From there, it was on down Norris Canyon Road to top off the lower half of the Grand Loop. After the junction at Norris I pulled over for a quick look down at Chocolate Pots along the Gibbons River.
Further down back along the Grand Loop Road, we pulled out for a stroll along Fountain Paint Pot trail and all the features along that walk.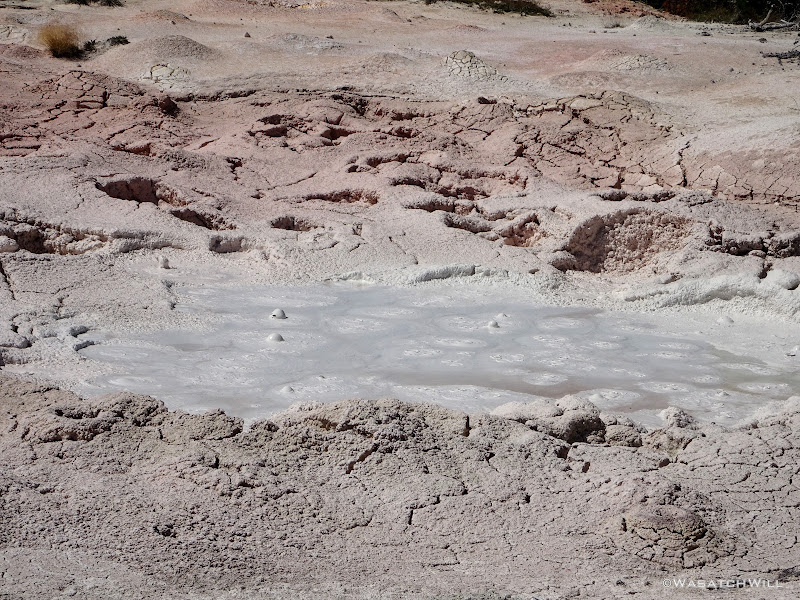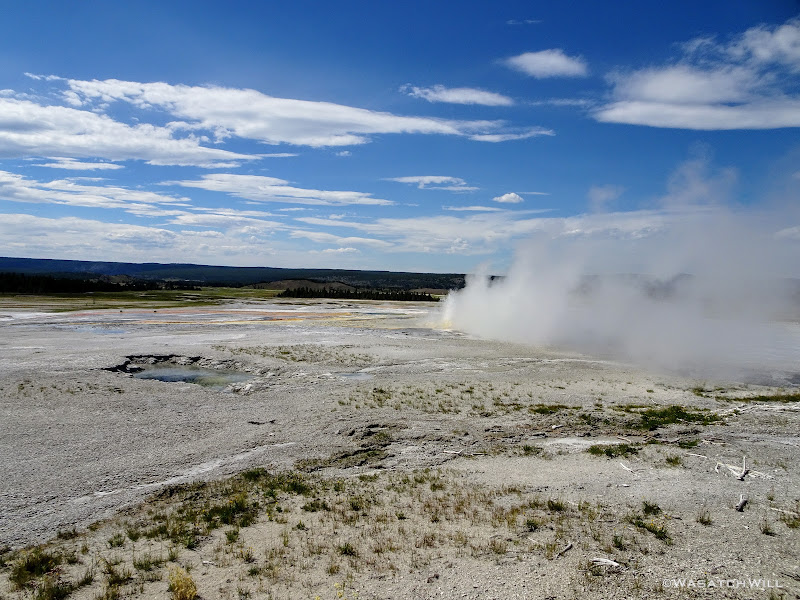 There we had a huge decision to make. I was really hoping to be able to take the family out to Fairy Falls to escape from the crowds and enjoy a view of Grand Prismatic from further out and above along the hike.
However, the kids felt like they already got enough walking in for the day with the Brink of the Lower Falls and the Fountain Paintpot trail and all that. It was also getting to be a little later in the afternoon than I had hoped. If we did Fairy Falls, we'd likely be getting back to camp with virtually no daylight left, and that was certainly not something we wanted to be doing. So, the decision was made to sacrifice Fairy Falls for a time when every one was a little older and more willing and more capable of hiking the longer distances in much lesser amounts of time. Instead, we'd now commit to getting involved in the traffic and crowds to get into the Grand Prismatic parking area for the up close look at the Park's iconic hot spring. Of course, there was the almost equally impressive Excelsior Geyser Crater to see too.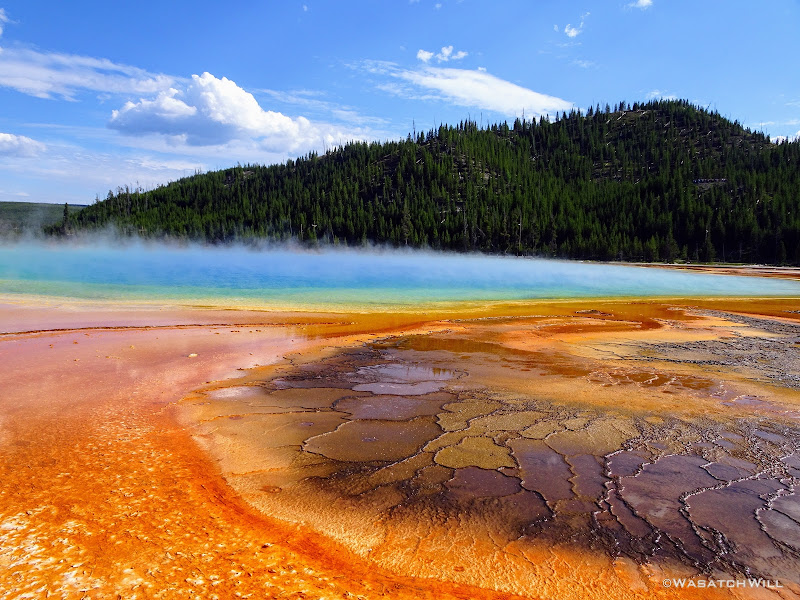 At last, we arrived back at camp with enough daylight to get dinner done while the kids enjoyed some hammock time.
Day 4
Saturday - July 27, 2019
Much of the next morning was spent taking down camp and getting our car packed up for the long haul back home. We'd take time to do a bit more sight-seeing on the way home though. First, it was a quick little spur trip out to neighboring West Thumb Geyser Basin near our campground.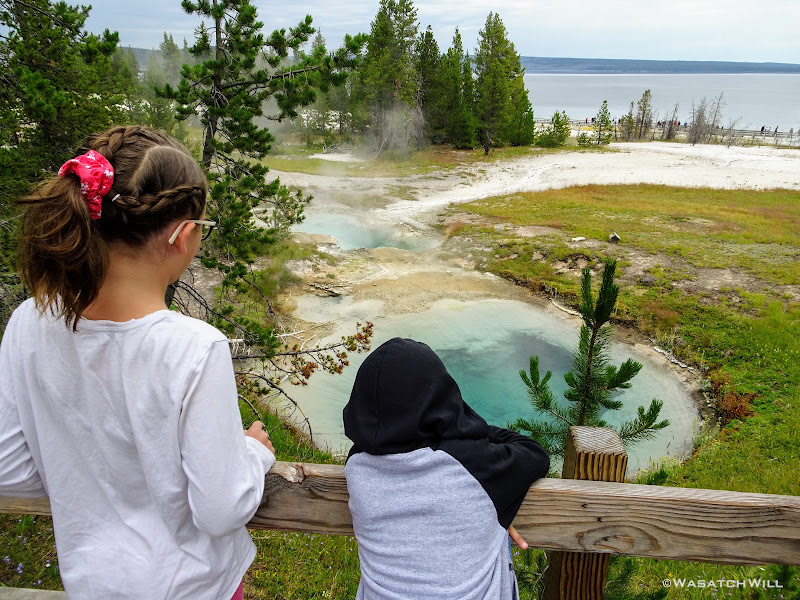 That was followed by the scenic drive down to Jackson Lake.
As we made our way around Jackson Lake, we pulled over for an overview of Willow Flats and caught sight of a massive elk herd lazing about out in the distance.
From there, I had greatly anticipated being able to pull into a spot in the String Lake or Jenny Lake area for a scenic lunch break. It was almost a shock to find that these areas weren't like so much of Yellowstone where there was constant turnover in the traffic and parking areas due to the quicker nature of seeing so many of those roadside features in Yellowstone. Here in the Tetons, as least for these lakes, people were there to spend much of the day, paddle-boarding, canoeing, kayaking, hiking, and the list goes on. The parking lots around these lakes were all full with no signs of anyone coming out to leave anytime soon. We circled the lot at String Lake a number of times all for not.
We eventually gave up on catching a parking space becoming available and moved on further down the road until we found a fully vacated parking lot and empty table at the Teton Glacier Turnout. This would do.
For our final big point of interest to visit, we drove on out to Mormon Row to see the historic and much photographed barns against the spectacular mountain backdrop.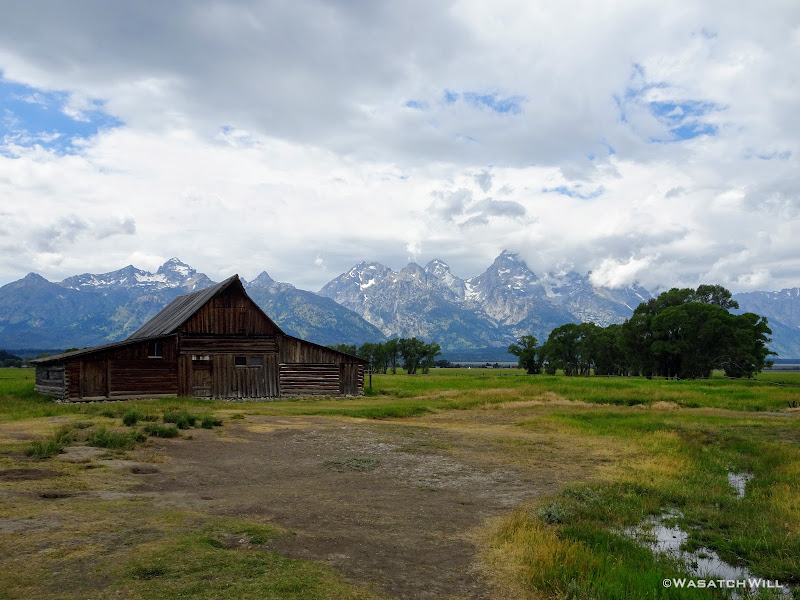 We closed out our trip with a stop in Afton for dinner at the drive-in there and finished out the last long stretch of the drive home. With this trip we decided that we'd only do such a summer vacation trip every second year. That is, fill up our days with scheduled agendas and sight-seeing and such. In the years between, we'll now seek out a primitive campsite somewhere and just relax away the days with more leisure activities and no set agendas.