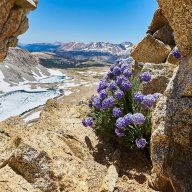 Joined

May 16, 2016
Messages

861
Thanks for everyone's suggestions so far, especially about the mosquitos. We have shifted to the middle of July and everything is booked.
3 (maybe 4 nights) at Colter Bay GTNP (going rafting one morning)
1 night Old Faithful Inn
1 night Grant Village
3 nights Canyon Lodge
- told you my wife didn't mind spending money
and then a couple nights in Custer State Park on the return home
I'm getting "nervous" about the crowds in Grand Teton. It looks like all the day hiking tourists (me on this trip) get squeezed into the Jenny Lake area or Colter Bay area. I know there are going to be people but I'd like to avoid feeling like I'm in a line at Disney World. Any suggestions for less crowded day hikes? String Lake and Leigh Lake sound interesting as does Two Ocean Lake, any thoughts?
I might get a day hike by myself in GTNP, Hermitage Point would be right out the door, but I suspect there is something better with a big climb to views, maybe Paintbrush Canyon? Any suggestions for a long day maybe in the Teton Wilderness? The Huckleberry Mountain Lookout looks like it would avoid crowds and provide views, comments?