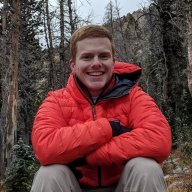 Joined

May 31, 2015
Messages

2,787
While you guys are gallivanting around Yellowstone, I'll be sitting by the shores of Kintla Lake. I scored a one-day driving permit for the North Fork. It took several tries and I can't believe how fast they go each day, like in seconds. I've been up there various times but never had to get a permit.
Part of me wonders if most people reserving don't even know anything about the North Fork area, and it's just spillover from people who didn't get the GTTS Road permits. I was up at Kintla last July, and although there was a decent number of people there, it wasn't crowded. Hardly saw any cars on the North Fork Road when we were walking around the Big Prairie area. I figure if anything, this is just going to put the area more on the map and make it even harder for people to be able to enjoy it.
I'm just going to get there at 6 a.m. when I go. I think, aside from Bowman Lake, it's kind of absurd anything in that area has ticketed entry now.
That was off topic but I couldn't resist. Haha.