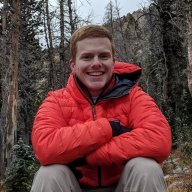 Joined

May 31, 2015
Messages

2,787
Definitely some kinks to be worked out of the new system - was quite a hassle getting my September trip booked since the system didn't like some of the campsites I wanted to link up. Shorter trips were easy enough though. Overall it wasn't too bad, I guess.

How was everyone else's luck/experience?
I was fortunate and drew April 3, so pretty much everything was available when I was booking. That was good for me since I was just going for spots in the Heart Lake area around Labor Day. Didn't have any technical issues, but I wasn't putting together a long trip covering a ton of ground. Just a 2-nighter to Heart Lake then south out the south entrance.
My friend set up another 4-night fall Bechler trip like we did last year, and I think his date was April 12 or something like that, and he got all the sites we wanted except for the one closest to Dunanda Falls. Not bad.