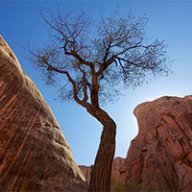 Joined

Aug 9, 2007
Messages

12,939
January 2011
The White Pocket. An isolated, notoriously hard-to-reach patch of sandstone in a remote corner of the Vermilion Cliffs National Monument. For more than a year, it has eluded me. But on New Years Eve 2011, I finally made it.
Yes, technically, I made it there on my first attempt in December 2010 after hiking
The Wave.
I saw the last bit of light fall on it from the trailhead and decided to camp and go take a look in the morning. Overnight, my friend became violently ill. By the time morning came we were forced to retreat to a place where medical attention was possible. A few weeks later I planned a New Years trip only to have weather move in that made the trip borderline insane.
Then two months later in February, a detailed trip was planned only to once again be foiled by a freak snow storm that dropped upwards of a foot of snow in the area. Months later, over Thanksgiving weekend, another trip was planned, and once again fell through for various reasons. So when the plan started coming together for a trip over New Years Eve 2011, I was a bit skeptical. But with permits to Coyote Buttes South and North the following days, I was determined to make it happen.
We departed from Salt Lake City early in the morning on New Years Eve. Loaded with all sorts of equipment for keeping warm and digging ourselves out of the soft Paria Sand. Winch, anchors, shovel, firewood, compressor and cameras. We were ready for it. We reached the House Rock Valley Road shortly after noon and were surprised by the amount of snow we found. White Pocket is on the plateau to the east of House Rock Valley at a higher elevation so it would likely have even more. Fortunately the House Rock Valley Road was in reasonably good shape and mostly dry. The clay base of the House Rock Road can become treachorous with even a small amount of moisture.
Meanwhile, the deep sand tracks to get out to White Pocket are great when they are a little wet. Instead of sinking in soft, dry sand, you just cruise right over it. We made quick time on the drive out with no issues that required anything more than good momentum and 4 wheel drive until the last quarter mile before we reached White Pocket. It was there, just after the gate at the corral that we hit nasty, sloppy mud of the worst kind. My truck immediately started fish tailing out of control as I slammed on the gas to get through. As we were sliding through on a 45 degree angle, Nilauro frantically pointed out that we were about to go sideways into a ditch next to a culvert. Spin the wheel, hit the gas, a lot of laughing, a little screaming... somehow we avoided it.
The road dried out a bit for a 100 feet or so before reaching the large trailhead parking area for White Pocket where we were in it again. This time much of the mud was hidden under a layer of snow. We started sinking and I slammed the gas and made it across to somewhat dry ground. We had planned to camp right there but there was no way. So I decided to take a drive where we found another road which led us to a perfect campsite within short walking distance of White Pocket. We had arrived.
The view of White Pocket from our campsite.
We had a little snack and immediately set out through the snow to explore. We had a few hours before sunset and the prime light. This is one of the man-made reservoirs in The White Pocket. In wet times, this would cache water for the livestock that were grazed in the area.
Nilauro setting up a shot.
That's me doing my White Pocket jump for joy. Notice Nikita looking up in confusion.
Later in the afternoon I wondered north of The White Pocket where I noticed an odd looking alcove in the distance. I decided to hike to it.
There were no ruins inside but there were some pottery shards and ancient corn cobs laying around.
And some etchings from the 30's.
Back at The White Pocket.
Nikita didn't mind the wait.
After sundown, hoping for a sunset. That's Nick Short taking a shot. That's right, this trip consisted of two Nicks and one Nilauro. It wasn't as confusing as it could have been.

And then it came. A fine sunset to end a fine year and a long wait to finally see The White Pocket.
Goodbye, 2011.
White Pocket did not disappoint. I only spent a few hours out there and didn't go back for night shots because of the clouds. We woke up to clear skies in the morning so I opted to sleep in while Nilauro and Nick went out to get some shots. Soon after we were packed up and on our way to Coyote Buttes South where we had permits for the day. That, as well as the third day of this trip at Coyote Buttes North, will be coming in separate trip reports soon.