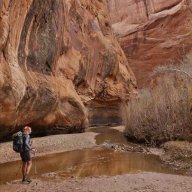 Joined

Jan 4, 2015
Messages

2,755
Looking for some advice on vehicle selection as it relates to backcountry adventuring. My '02 Forester is begging to be put to pasture, and I'm not quite sure what to replace it with.
Must-haves:
4WD or AWD
Long enough to sleep in the back (I'm 5'7"ish) - I can build a sleep platform like I have in my current car
Adequate ground clearance for those crappy roads to the trailhead (Cedar Mesa, Escalante, etc)
Practical enough to be driven on an everyday basis. I don't have a super-long commute.
I'm thinking something in the crossover-small SUV family. Not a pickup - that's a little too much vehicle for my needs. I'm probably looking for something in the 5-8 yrs old range.
Anybody else have similar needs? What vehicle did you go with?
In action: #crappybeatupsubarulife. Eagle-eyed folks will spot the BCP sticker.