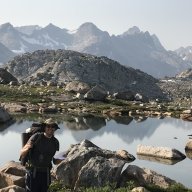 Joined

Mar 1, 2015
Messages

183
I may be in the market for a new (used) vehicle.
What I care about:
Reliable
Drives well in snow
Seats fold down in the back with enough space to sleep 2 6-ft-tall people side-by-side (or if it's a pickup, enough length in the back to be able to sleep comfortably)
High-clearance 4wd preferred (capable of getting to many of the 4wd trailheads in Southern UT)
Fits 5 people not too uncomfortably (we have a minivan, but we will occasionally need to fit the family in the other car). This will probably rule out smaller pickups.
Good gas mileage
Not bigger than I need it to be
What I don't care about:
How it looks
How "fun" it is to drive (how fast, how nimble, how quickly it can accelerate, how quiet, etc.)---I mostly just want to be able to get from point A to point B
Modern bells and whistles. I would prefer to have cruise control, working A/C, and power windows/doors, but none of these are absolutely mandatory, and I don't need any more modern features.
Interior comfort. I just want the car to get me where I want to go without any major problems; I don't care how fancy it looks/feels on the inside.
Power---I don't need to haul a boat or a trailer or anything with this; as long as it will drive me around the city and on some kind of rough roads, that's fine.
I don't really need a pickup for hauling stuff, so I'm leaning away from the pickup option.
I'm frugal, so I would only want to spend a lot if I can convince myself that it will be a good financial decision in the long run. I would like to minimize the total amount I spend over the years of ownership, where
total amount spent = initial price + repairs over the years + gas + my time spent hassling with repairs/replacement​
I imagine this will mean I spend somewhere between 6k and 20k, but I'm not sure exactly where in that range.
Anyway, the 4runner stands out to me, except that used 4runners are very expensive. My current vehicle that I am replacing is an Outback, which has been good for me, but I would prefer something with higher clearance and 4wd, and with a little more room in the back to sleep two people in (my 2003 Outback isn't quite long enough to fit me comfortably in the back). Any suggestions?