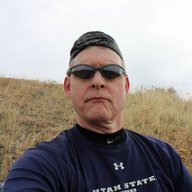 Joined

Dec 23, 2013
Messages

3,016
On Sunday, it was time to go fetch my gallon of water and 32 oz. of Gatorade off of the Millcreek Ridge that I had stashed there two weeks ago for water bottle refills on my failed attempt to hike the entire ridge.
For those interested in the hike along the eastern portion of the ridge a week earlier:
East Millcreek Ridge Report
My wife dropped off my daughter and I at the Elbow Fork Trailhead at 6:00 am, and she would pick us up later in the afternoon at the West Slope Grandeur Peak Trailhead.
Heading up the Elbow Fork Trail, I realized that this was the fourth week in a row that I had been on this stretch of trail, from the trailhead up to the saddle below Mount Aire. I don't ever recall doing that before - hiking a trail four weeks in a row that is.
This hike was approximately eight miles in length, and it took us right at ten hours to complete. We did take a nice break on Church Fork Peak, and a late lunch when we reached Grandeur. The segment between Church Fork and Grandeur was the most difficult with route finding (I failed miserably at this), plenty of scrub oak bushwhacking, and some minor scrambling.
Elbow Fork Trailhead - this is becoming very familiar to me.
Thimbleberries in bloom along the trail
Cow parsnip
Wild pea
Showy goldeneye
Scarlet gila
Sunscreen time at the saddle below Mount Aire
Hooker's onion seen heading up from the saddle to gain the ridge
Stonecrop
Looking back towards Mount Aire, the last peak I reached last weekend before abandoning ship
Retrieving the gallon of water and the Gatorade a week late.
Lupine on the ridge
Penstemon
Already into some difficult bushwhacking. I almost stepped on a large rattlesnake just after this picture was taken. I couldn't get
my camera out fast enough to get a picture of it though as it slithered away into denser brush.
Wild rose
My daughter tells me that this is a one-eyed sphinx. Still bushwhacking at this point.
Still bushwhacking with long morning shadows - or perhaps just a bad picture taker.
Yay, we reached an opening along the ridge, with Wildcat Ridge across the canyon.
Some sulphur buckwheat along a game trail
You can just make out Grandeur Peak in the distance, teasing me like it had the previous weekend.
More off-trail to reach the top of the next hill
More showy goldeneye
My nemesis, Grandeur Peak, peeking out from the ridge.
Shrubby country at this point, looking back and up Millcreek Canyon
Columbine
Nearing the head of Burch Hollow
Common yarrow
The head of Burch Hollow
View down Burch Hollow
Sego Lilies were in bloom across the ridge
View to the north from Burch Hollow
Heading towards Church Fork Peak now
Beautiful mountain mahogany on the ridgeline
Church Fork Peak in the distance
Last hill to climb before Church Fork Peak
Some reptilian company along the way
Nearing the yurt, with the Church Fork Peak cairn just a little further
A good look at Grandeur now
Last stretch before the yurt
The yurt
Another sego lilly
The yurt has a visitor. I knocked, but no one would answer.
What's left of the ridge after Church Fork
Summit shot
A look back to the east and Mount Aire. Also visible are unnamed peaks 8490 and 8319 along with Millvue Peak
Katie, contemplating how we are going to proceed.
Some bees on a Scottish thistle
More columbine
An old aerial target on the ridgeline
Slow goings at this point
You put one foot in front of the other, and soon you'll be walking cross the ridge!
More scrub oak to contend with on the next hill.
Grandeur still laughing at me.
A look back to the east, this time back towards Church Fork Peak
Another lovely mountain mahogany
A dead mountain mahogany
Western sheep moth caterpillar
Katie, giving it all she's got
The trail up Grandeur is within sight!
Prickly pear in bloom on unnamed peak 7868
I think I can. I think I can.
View back at the head of Church Fork
Summit shot on Grandeur. 85 degrees in the shade at the top.
This one is for
@Rockskipper
- Flavor Scatman Flav!
I knew that you would want to know what time I reached the Grandeur
summit.
Now it is time for the awful decent down the West Slope Trail. Looking back up at the summit of Grandeur
It looks awfully dry on Parleys Ridge to the north
Trying to give some perspective to the steepness of this trail coming off the west side
of Grandeur. My knees were mush after descending.
The chauffer awaits at the trailhead - a toasty 99 degrees I might add.
Well, I didn't get nauseous on this one, which I'll take as good news. I was pretty tired though after finishing.
The End.