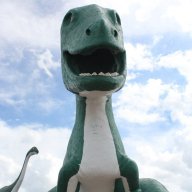 Joined

Oct 27, 2013
Messages

182
I've been watching the Escalante River monitor since we'll have to do a few river crossings next week. We got a decent amount of precip in SW UT yesterday, and to me it looks like Escalante got at least some to supplement the spring melt since it leveled off at a higher height/rate as the temps cooled off last night. I would be surprised if there's not at least some water in the springs and shadier potholes.
My friend in Escalante reported they only had sprinkles in town yesterday, but with the scattered nature of the showers I'm sure some areas received more.
I asked the Interagency Visitor Center about those repeated rapid pulses on the graph and they had no rationale. I wondered if the State Park reservoir was doing releases, if they ever do such a thing. Most important takeaway I got was it is a low flow spring overall. Maybe hot days will cause rapid snowmelt pulses?
I vaguely remember reading about river pulses in another trip report, but I can't remember which one. So I guess it's not a one-off phenomenon. ‍