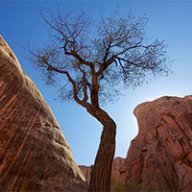 Joined

Aug 9, 2007
Messages

12,934
Let's see everybody's old school outdoors photos. The older the better! I've got a ton of old slides from the 50's and 60's that belonged to my grandparents that I've been digitizing. Well actually, I digitized a small bag and then my dad finally gave me a giant box that he called 'the good ones', which I haven't even started yet. I need some motivation to do them, or maybe to just pay someone to. Anyway, here's some golden oldies...
My dad and grandma in 1962
Hole-in-the-Rock Road, May 1961
This one was in a set labeled 'Circle Cliffs' from around the same time. I'm a little perplexed as to where it might have actually been taken down there. Any guesses? Lots of basalt laying around. I'm thinking it might be the Burr Trail crossing Deer Creek or something like that.