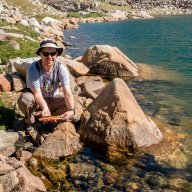 Joined

Jan 19, 2012
Messages

1,199
Last March some friends and I decided we'd go support the Aggies at the WAC tournament in Vegas. I was really excited as I had never been to Vegas before. Ok, that's not entirely true... I did spent a few hours in Vegas as a 8th grader where I got kicked out of Circus Circus for playing the nickel slots and another time we stopped for a break on a drive from L.A. to Cache Valley. This was going to be the first time that I had spent any amount of time in Vegas as an adult.
Vegas was cool and all for someone seeing it for the first time. We hit up the usual touristy sites and played the craps tables some (I even won about $50! Whoo-hoo! LOL!). We soon got tired of all the people and decided to get out and see some of the surrounding country.
One day we drove out to Hoover Dam and checked it out. I was more impressed with the new bridge they had just built over the canyon than I was with the dam! Before the highway use to cross on top of the dam and caused major traffic jams.
On another day we drove out to the Valley of Fire, which is about 1 hour north of Vegas. The first place we hit up is called Mouse's Tank. It's a shot easy hike with tons of Indian Petroglyphs!
Mouse's Tank - Petroglyphs
Mouse's Tank - Petroglyphs
At the end of the trail we decided to scramble up a ridge and loop back to the car. Here are a few pics I took along the way.
Next we headed to a placed called Silica Dome. It is really neat because you have red and white sand stone bordering each other!
We then drove onto an area called the White Domes. The road heads north and goes through some neat washes and then circles around and heads south just before the end. We were wishing we had more time to hike this area, but had a basketball game to be back for. It would have been fun to have made a nice loop around to the washes on the road to White Domes. This was our favorite area of the park! There's even a small slot!
Small slot
It was a fun trip!!! The Aggies won and I got to do some hiking in 70 degree weather in March!!!! :twothumbs: It's hard to beat a trip like that!
Slide for featured image: