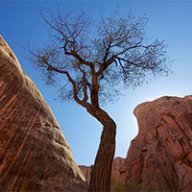 Joined

Aug 9, 2007
Messages

12,947
Life has been busy this year and as a result, I am way behind on posting trip reports. But that's what snowy weekends in December are for! What better way to start than with a report from our Uinta Highline crossing in July.
My first attempt
at the Highline was in July 2012. We started at Leidy Peak but did not acclimate first. We just drove there from Salt Lake and started hiking, knocking out something like 12 miles the first day, mostly above 11k feet. Prior to that I'd experienced altitude sickness on two other occasions. Both when I combined a lack of acclimatization along with heavy exertion on the first day out. Long story short, I bailed 16 miles into the hike at Chepeta Lake. It was the right decision but it bummed me out and I knew at the time I'd come back eventually. But in the following years I had some health issues including a total knee replacement in 2014 (at age 35). There were complications and it was an exceptionally difficult recovery. Moving was hard. I mostly kept to lower impact activities and packed on some weight. Moving got harder.
Fast forward to 2017. I was coming to realize that my days of real backpacking were behind me. It's not an easy thing to accept, but what do you do? Float rivers and go on smaller day hikes, I guess. But like many do around the beginning of each year, I decided to try something new when 2018 rolled around. I adopted a low-carb ketogenic diet in January. I don't believe in New Years resolutions, but let's be honest. It's a convenient time of year to shift gears. Change was not instant but it was noticeable. By mid-February I'd already lost a considerable amount of weight and my energy was through the roof. I was going on frequent winter runs in just shorts and T-shirt through the steep foothill roads in my neighborhood. I was also intrigued by the concept of cold exposure and its effect on the body. I felt invigorated. It was almost like someone had given me a mainline of cocaine or something. I have never wanted to run in my life before this. I just didn't know what to do with all of this new found energy. I started making plans for more strenuous outings. Things I thought I might never do again. Must keep this momentum.
As the year ticked on, I continued to lose weight. Backpacking in Escalante in April proved to me that I was back. It felt really good. Canyoneering Zion in May as well. By the time July rolled around, I felt confident enough about the Highline that I opted to stay in town on the 4th to watch the fireworks from our deck rather than have another day and a half on the trail. In retrospect, that might not have been the best plan but it all worked out and we had a good time. 'Murica!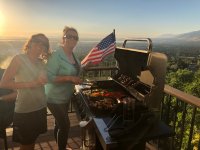 The next day my wife Audra drove us out to Duchesne and back to the Chepeta Lake trailhead where she had picked me up on my failed attempt 6 years earlier. The drive out took longer than we'd hoped. The Dollar Ridge Fire had Highway 40 closed so we had to take Wolf Creek Pass. To further delay things, when we stopped at a gas station in Duchesne, we found some cats that were in really bad shape. One was blinded by infection and it's sibling was dead behind some bushes. My wife does a lot of work in animal welfare and we ended up spending at least a half hour trying to do something to help them. Welding gloves were brought out and we tried to capture one but it kept slipping loose. We ended up contacting a local rescue who said they would come out and set traps. By the time we made it up the long, winding dirt road to Chepeta and were ready to walk, it was already 2:15 PM.
This time around I was going with three of my favorite people:
@Jen
,
@Dave
and Collin (
@CJonesey
). Here we are doing the obligatory start of the hike group photo. At this point in the year, I was down over 100 pounds from my high weight and 80 something just since January 1st. Let's do this!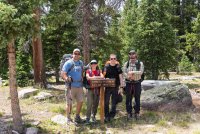 Our plan for day 1 was to get over North Pole Pass and camp somewhere in the vicinity of Fox Lake. Not far from the trailhead, I had this silly idea to record video clips throughout the trip. I hadn't planned this out at all. I just started shooting, channeling my inner
@Jammer
the best I could. Up until today, I still wasn't really sure what to do with all of the clips I recorded. I was just handholding a cell phone so they're pretty shaky and incomplete. But I didn't want to just lose that aspect of the trip, so I decided to just combine them into a single video for each day. No fancy graphics, no music. Just me talking to the camera for the most part. Here's day 1:
And here are some photos from day 1:
Moose in Lower Reader Lake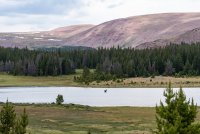 Approaching North Pole Pass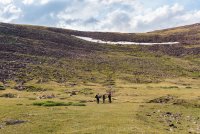 Jen and Collin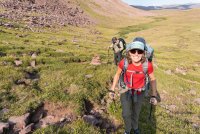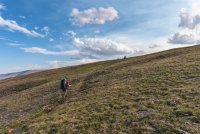 Dave getting close to the top of North Pole Pass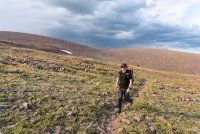 Collin coming down off of North Pole Pass looking down toward the Fox Lake area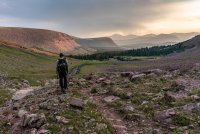 The smoke from the Dollar Ridge Fire was pretty bad through this section, but it made for some nice photos.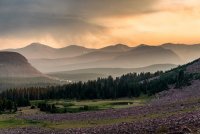 Sunset from camp the first night. We did a little over 9 miles on day 1. Not bad for starting at 2:15.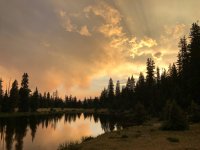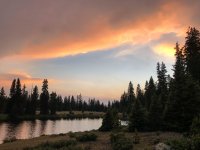 The next day we slept in a bit. A bad idea in retrospect. While not the most difficult day, it would prove to be one of the worst in a lot of ways. The scenery isn't as spectacular as the rest of the trail and it was long. 15 miles from here to just below Anderson Pass. Here's the video recap for day 2. I didn't take as many photos this day.
Morning on day 2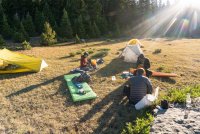 It was mostly overcast throughout the day as we worked our way up and down through the trees. Not that many views. Just not that awesome. By the time we got into lower Painted Basin, the scenery improved but it also started raining. We were debating making a run for Anderson Pass late in the afternoon but the storms kept us away.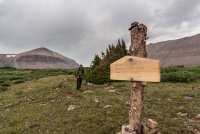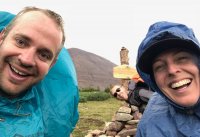 We setup as close as we could to the pass so that we'd be ready to get up there early the next day. The sun came out a bit between sporadic rain storms.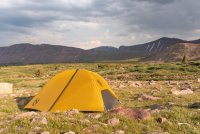 Dave worshipping at the altar of light (aka, being a photographer).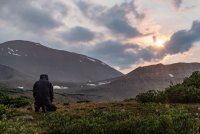 The next morning I awoke to the sound of clinking stakes well before there was any light in the sky. Jen was on her way to summit Kings Peak. The rest of us would start moving a little later and meet her on Anderson Pass. The view out of my tent was good enough that I didn't even need to crawl out to take a photo of the sunrise.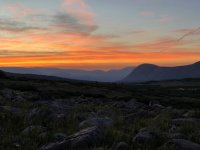 The sun rises on King's Peak as Dave and Collin pack up camp.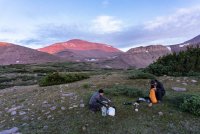 Ah, but before more photos, here's the video diary for Day 3:
The morning light made the climb up Anderson Pass quite pleasant.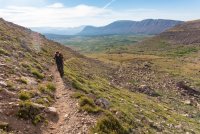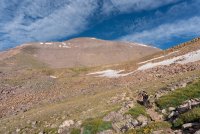 After a little over an hour and a half of hiking, we were on top of Anderson Pass and reunited with Jen.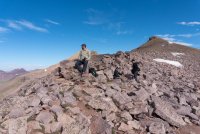 Looking into Yellowstone Creek and a portion of where we would hike the rest of the day. We would need to cross Anderson, Tungsten and Porcupine, and then make it quite a distance down into Oweep Creek before setting up camp. Oh, and this was my birthday. Who planned this trip!?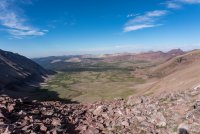 Collin leading the way down Anderson Pass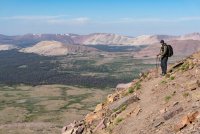 A rock slide had wiped out part of the trail coming down, making things a little more interesting. I was happy to be down in this grassy wonderland for the next few miles.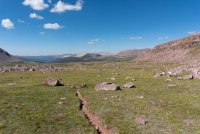 Collin taking photos of a marmot at the base of Anderson Pass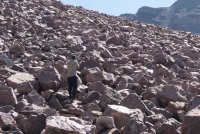 We had planned to eat lunch at Tungsten Lake after crossing Tungsten Pass, but some miscommunication resulted in stopping earlier. Eating lunch and dealing with water filter issues seemed to take it out of us. I think we all would have been happy to stop and camp before Porcupine on this day. I was still really happy to finally put eyes on Tungsten Lake though.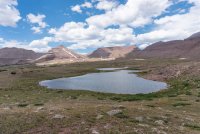 Tungsten on up to Porcupine is nothing but tundra. No shelter anywhere. It's beautiful, but the scale is deceiving.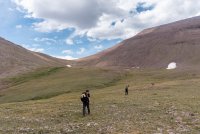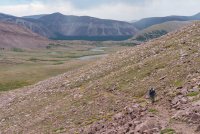 Our first view into the Lakefork Drainage and Oweep Creek.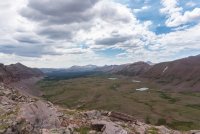 Descending Porcupine Pass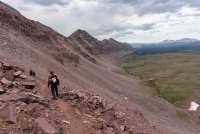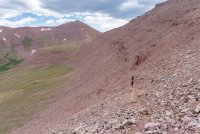 The wildflowers were fantastic all over the place, but they seemed to be at their best right at the base of the passes.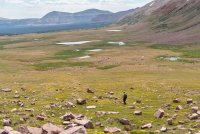 We had aspirations of making it to Lambert Lake by the end of the day, but we were worn out and opted for this ugly campsite instead. It was awesome. Glad we stopped short.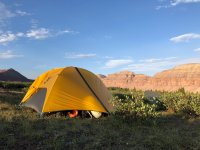 Laying around, feeling broken. I had a can of spam with some candles in it for my birthday. Woohoo?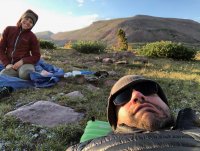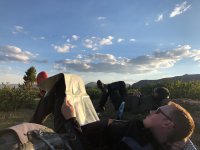 And then it was Day 4
We started early and moved quickly on day 4. We passed by a herd of elk. I didn't take a lot of photos. The shelf that Lambert Meadows sits on could almost be called a pass in itself. Fantastic views.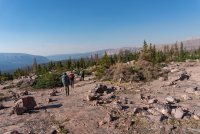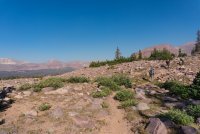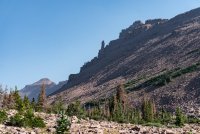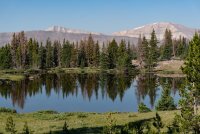 Descending once again before we can start going up to Red Knob Pass.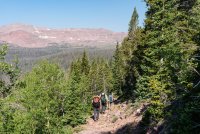 The weather was great as we started up toward Red Knob Pass.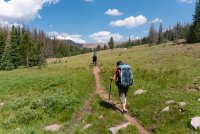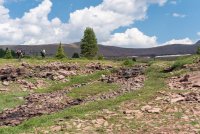 I found myself struggling to keep up with Collin and Dave through here. I wasn't feeling weak or anything, they're just faster than me. So when they decided to stop for water, I decided to keep going. I hate feeling like I'm always trying to catch up. Going at my own pace for a while was a nice change. I still couldn't see them when I made it to the base of Red Knob so I decided to just head on up.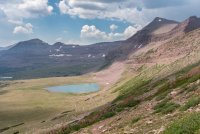 Once I gained some elevation, I spotted them down below.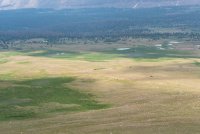 I settled in on top of Red Knob and took in the view. Feeling satisfied that no one was waiting on me.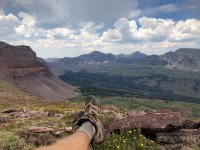 Jen was pleased with the view as she arrived.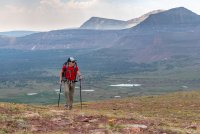 The fun wouldn't last long though. By the time the others made it up, a nasty storm was bearing down on us. We were forced to run down the other wide of Red Knob. I felt the hair on top of my head rise as lightning crashed down nearby. By the time we made it to the bottom, things were looking a little better, but it was short lived. We made our way over to Dead Horse Lake through patchy rain and rumbling thunder. We were now more than 12 miles into the day but we really needed to get over Dead Horse Pass. But not like this. We hunkered under some trees until the rain got so bad that shelter was necessary. I pitched my tent and we all huddled under it and drank tea.
Around 4:30 we decided to make a run for it. There were still storms around but it was looking a lot better. The view of Dead Horse as we climbed up to the base of the pass.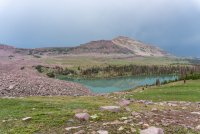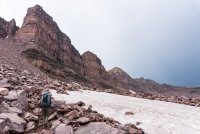 Looking back over at Red Knob where we had been chased down hours earlier.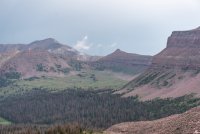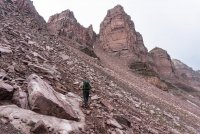 Dave and his stick.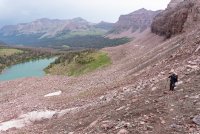 Snow and generally very poor trail conditions made this spicy.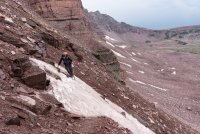 Almost there!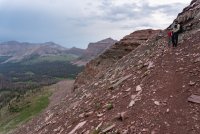 Success! Being at the top of Dead Horse was such a relief to all of us. If we hadn't made it over today we would have been forced into a nearly 20 mile day on our final day.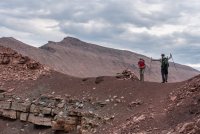 Dave was very happy to put that section of trail behind him.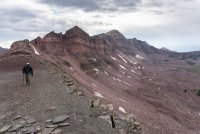 The other side of the pass was easy and soon we were coasting through upper Rock Creek on our way to Ledge Lake for our final night.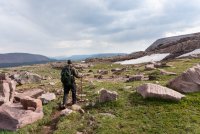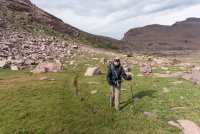 My tent at Ledge Lake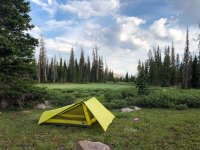 The next day we were up early and on our way. Here's the video for the fifth and final day:
We were ready to be done, but it was not going to be an easy day. Aside from Rocky Sea Pass there was still plenty of elevation change and generally uninspiring sections of trail that I've already done too much. But not this beautiful section of Rock Creek.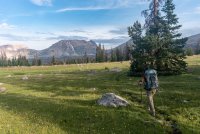 After a little navigation error we were crossing Rock Creek and heading up up up to Rocky Sea Pass.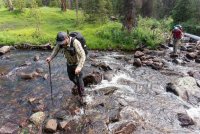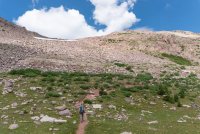 So many wildflowers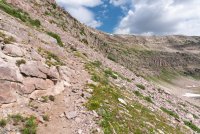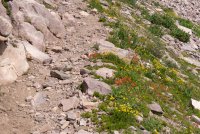 Collin (and maybe Dave) are in there somewhere.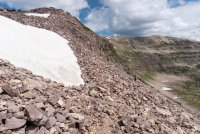 On top of Rocky Sea, looking out toward the truck and the chips, salsa and beverages it holds.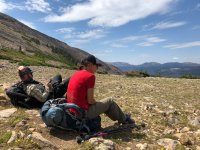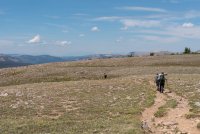 I've hiked the section of trail between Rocky Sea and Hayden Pass enough now that I'd love nothing more than to never do it again. It kind of sucks. There's too many people, too few views and way too many 'baby heads' in the trail. That's what Jen calls rocks that size. With a few miles to go, the storms moved back in, making it even less awesome. But it didn't stop us from celebrating at the end. Jen and I came in about an hour behind Collin. Dave was somewhere in between. It was 97 hours for me from car to car and a total of 68 miles. Not that big of a deal for a lot of folks, but it's definitely hiking faster and harder than I enjoy. Would I do it again? Nope. But it feels a lot better now than it did the day after. And what really feels good is that I did it. And that I CAN do it. Use those legs while you have them folks.