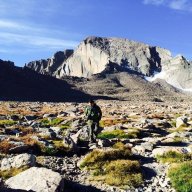 Joined

Mar 1, 2018
Messages

98
Inspired
by
@Bob
,
Joey
, et al, we headed off trail into Norther Wind River Range early last September. This is an abridged trip report of our hike, you can find our detailed and very long report on my
website (travel2walk.com)
that includes our planning, research, gps track, day by day details, and a video that will post when I finish editing it.
At one point on our eight day hike, we set up our tent on a bluff overlooking a turquoise colored lake. No matter how often I've encountered them, they seem so surreal every time still. Across from us was the terminus of Connie Glacier spilling down into the lake. The funny thing was, we joked that probably the closest person from our five star camp this evening was at least 5 hour, 5 miles, or at least another valley away from us. We were roughly 1 to 2 days of tough and technical travel across talus & scree from the nearest trail, making those prospects not surprising at all.
On theme with my favorite hikes in the world, there was plenty of big ice on trips. Part of the reason I love seeing them is because of the contrast they give to the mountains. Additionally there rarely is a dull moment on this hike, every section was something new and something to see. When I think back to the hike, and really when I was trying to decide the lead picture of this report, there isn't a one spot that defined the hike. It was a full experience through and through. Yes, going off trail makes our hiking speed slow, but so does stopping every few steps to marvel at what's around us. We saw waterfalls running down the mountain side into wide open lakes and lakes that seem to have their own gradient of color. We crossed the barren and windswept continental divide and scrambled on talus fields following many cascading streams. Even when we were hiking on a trail, we were accompanied by open meadows and milky glacial rivers.
Even though we were very fortunate with the weather, it was still a very challenging hike. The weight I picked up during COVID probably didn't help. Challenges included dodging branches bushwhacking around upper Ross Lake, trying to navigate our way on the continental divide with my novice skills when there wasn't much landmarks to go off of, or the endless scree and talus fields. Overall, it was a still great off trail learning experience.
The hike beat us up and I look forward to returning.
Hike Video (added: 8/8/21)
Hike Details
date of hike: Aug 30 - Sep 6, 2020
type: off trail loop
distance: 61.4 miles (98.8 km)
elevation change: 12,507 ft (3,812 m)
time: 8 days (39:08 hours moving)
location: Glacier Trailhead, Fitzpatrick Wilderness, Shoshone National Forest, Wind River Range, near Dubois, Wyoming, USA (
google map directions
)
Pictures
Last edited: