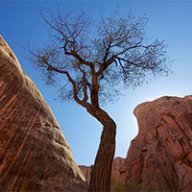 Joined

Aug 9, 2007
Messages

12,940
Thermarest NeoAir XLite
MSRP: $129.95-$179.95, depending on size
Price Paid: $179.95 less 20% during an REI member sale
Size Reviewed: Large 25"W x 77"L
Where you bought it:
REI
My Rating: 5 out of 5 Stars
Manufacturer's Specs
:
In all my years of backpacking, I've struggled with finding the ideal sleeping pad. With the Thermarest Neoair XLite, I'm as close as I've ever been.
I've use a lot of backpacking pads over the years, here's a short list:
Big Agnes Air Core
,
Thermarest Ridgerest
,
Thermarest Prolite
, Thermarest Prolite 4 and
Thermarest Z-Lite
. I've used them all extensively and they all have their ups and downs.
The closed cell foam pads are more versatile, can be used as a chair around a fire or on sharp rocks and keep you low to the ground for people who tend to sleep half off the pad like me. They're also great for keeping you warm from the cold ground. The downside of foam is that they are very bulky and pretty uncomfortable. I get sore fast on the closed cel and end up only being able to sleep on my stomach but even then it hurts my chest after a while.
The Thermarest Prolite type of pad isn't much thicker but is much more comfortable than a foam pad. They also provide good thermal protection and self-inflate part of the way. The downside is that they aren't all that light, especially if you're getting one just big enough to get by. All of last season I used a Thermarest Prolite regular which weighed in at 1 pound. Unfortunately, it was just too small for me. I had to choose between having my head or feet on the pad and if I wanted to spread my arms up above my head, they would be on the ground.
The uninsulated Big Agnes Air Core and similar pads are awesome when it comes to comfort. With 2.5 of thickness, you can really sleep any way you want. The Air Core was my first backpacking pad many years ago. And Big Agnes customer service is so awesome that they replaced that old pad when I couldn't fix the hole in it so now I have a newer model. The downside to the Air Core is the lack of insulation. If you're camping in warm weather, they're great. But if you have a really cold night, the uninsulated Air Core pad will make you miserable. You could step up to the insulated Air Core but now you're talking about 24 oz for a regular size pad and 36 oz for a large.
Enter the NeoAir XLite... the XLite takes all the awesome comfort qualities of the Air Core and melds it with the high insulating qualities of the ProLite series. If that weren't good enough, they weight less than all of them and pack down smaller too. My NeoAir XLite large is advertised as 16 ounces (actually weighed in closer to 15) and boasts a width of 25" and length of 77". The regular version (20x72) weighs even less at 12 ounces.
The magic in the NeoAir XLite comes in the form of air chambers and a reflective mylar layer that captures body warmth and reflects it back up from the ground. And at the same time, keeps cold air from the ground from going up. It's an amazing system they've come up with that almost makes standard sleeping pad insulation obsolete.
At first look, the NeoAir XLite looks like it wouldn't hold up to much abuse. The material is extremely thin and is even somewhat translucent. You can actually see the air chambers and reflective mylar sheet on the inside when you look at the right light. I had more than one backpacking partner this spring tell me to be careful with it, that I would pop it as it is obviously so delicate. I told them if it pops then I'm glad I figured it out sooner than later and I proceeded to abuse it as I would any pad. I slept with it on top of gravel, dirt, sand and one night a bed of rather sharp rocks with nothing but my ultralight tarp in between. It was so bad that it was painful to stand bare foot on the tarp. But the pad held up fine, so holes, and no leaks yet. A repair kit is included with the pad which I store in my First Aid Kit.
I'm really talking up the XLite in this review, but it really is that good. I was going to wait until later in the summer to write my review on it because I like to have used an item thoroughly first, but after spending 10 nights on it in a wide variety of conditions from well below freezing, to nice warm nights and from the desert to the mountains, I am sold. This coming from a guy who spent 51 nights in a sleeping bag last year. Hands down, the best backpacking sleeping pad I've ever used.
Pros
Huge but still ultralight!
Very comfortable at 2.5" thick
Packs down to the size of a nalgene or smaller
Semi-rectangular so I can still spread my arms out a bit.
Cons
The ultralight material is a bit loud and 'crinkly' when you make big movements during the night
Translucent material shows condensation and potential mold inside
I think I would have preferred the old fully rectangular version, at least up top.
It's inflatable, therefore inherently prone to getting a hole and becoming useless
bloody expensive!
The Photos
The NeoAir XLite next to a few of my other pads. From left:
Thermarest Z-Lite Regular
,
Big Agnes Air Core Regular
,
Thermarest XLite Large
,
Thermarest ProLite Regular
,
Thermarest Ridgerest
. 1 liter Nalgene bottle in the background for scale.
Me inflating my XLite in Horse Canyon, Grand Staircase-Escalante National Monument, March 2012. It takes me a bit over 90 seconds and around 22 breaths to get it inflated.
Deflated view of the pad near the mouth piece. See how there is moisture building up inside? I'm sure this is just as common in every other pad but it's odd to be able to see it inside this one.
Fully inflated
Side view of the 2.5" thickness
You can see the translucence of the pad in this shot.
To roll it back up, I start by folding it like this and laying on top to get most of the air out.
I then fold it in thirds. This is how it came packaged from Thermarest.
And proceed to roll. Sometimes it rolls up wider than others.
It came with this stuff sack that is way too big. I don't use it, instead, I use a small piece of velcro to keep it cinched down tight or nothing at all. Since there is no standard insulation, it doesn't try to expand much.
My NeoAir XLite weighs in a bit less than the advertised 16 ounces. About 15.3 with the stuff sack.
And 14.6 ounces for the pad only.
Please feel free to ask questions and share your experience with the XLite in the comments below.
Available through these backcountrypost.com sponsors:
Amazon - Backcountry.com - REI - Altrec - Moosejaw
Manufacturers: Want your gear reviewed on backcountrypost? Email
nick@backcountrypost.com
for information on having a thorough review of your gear done. Our key reviewers are pros at testing equipment, each logging hundreds of miles of trails, and countless nights camping each year.