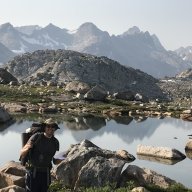 Joined

Mar 1, 2015
Messages

522
Hello all, I am planning a 4-day (3 night) backpacking trip in the Maze district in Canyonlands. The trip will probably be in mid-April. I plan on taking the jet boat from Moab to Spanish Bottom, similar to a few trip reports I have seen on this site. The tentative itinerary currently looks something like this:

Day 1: jet boat to Spanish Bottom, Spanish Bottom to the granaries, through the Doll House, to the Confluence Overlook and to camp somewhere near the water source in Water Canyon.

Day 2: Water Canyon to Shot Canyon trail to Chimney Rock up Pete's Mesa trail (I think, but I'm not sure, that some people call this the Jasper Ridge trail---although the Kelsey map shows two distinct trails?) to set up camp at the spring below the Maze Overlook. Then optionally climb to the Maze Overlook (we might skip this if it looks beyond our comfort level) without the heavy packs, and back as the sun is setting (but make sure to not do this in the dark!).

Day 3: Hike to Abbey's Triple Arch (marked on the TI map as well as in the Kelsey book), then to the Harvest Scene (I think you want to see this in the morning or evening, so morning should work here?), then down Pictograph Fork Canyon, then down the SE branch of Pictograph Fork Canyon to Chimney Rock, then back down the Shot Canyon trail to the same campsite as night 1.

Day 4: Reverse Day 1, but without the side trips. If this is too much mileage for that morning (7 miles or so, but we need to be back to Spanish Bottom by 11am), we can dry camp a little closer to Spanish bottom (but stopping at Water Canyon for water), if there are good spots to camp. Of if we really want a shorter Day 4, we could just plan on returning to the Doll House via the road from Chimney Rock (although that sounds boring, and we would have to carry an extra day's worth of water).

Anyway, here are my questions:

1. How hard is this route from a technical/exposure perspective? I have seen various reports as to how hard/scary/dangerous it is getting into and out of these canyons; some make it sound like a piece of cake, while others make it sound kind of sketchy. For example, both the David Day guidebook and the Kelsey guidebook make this route sound fairly easy, but I've seen some photos on trip reports that look tough from an exposure standpoint. I tried to pick the canyons/routes that sound the easiest; if any of these---Shot Canyon, the Pete's Mesa/Jasper Ridge trail from Chimney Rock, or the SE fork of Pictograph Canyon---are particularly tough scrambles, please let me know! My group all has experience backpacking, including some trips in Canyonlands/Zion/Escalante, but not really in canyons like these. We are fine doing a little bit of scrambling with the heavy packs, and I don't mind bringing a rope to help with the packs (although I've never needed one before!), but I'd like the scrambling difficulty level to be fairly beginner-friendly (in mountain climbing terms, a few short easy class 3 scrambles would probably be fine, but no more). Also, I have never been to the Maze before, so if anyone has suggestions for an improved itinerary (e..g., exiting via "The Plug" vs. Chimney Rock from Pictograph Fork), please let me know!

2. This entire trip is based on the assumption of reliable water in Water Canyon as well as in the spring just south of the bottom of the trail coming from the Maze Overlook. Is my understanding correct that there will probably be water at these locations in mid-April? I will have a water filter and some coffee filters to pre-filter if needed. I will of course call the ranger station right before the trip to get current water beta, but I want to make sure this plan is reasonable "most years" before I book the permits and such.

3. I was planning on doing this trip in mid-April because that's the time of year that generally sounds pretty ideal. Has this winter been dry enough that I should push the date earlier (such as late March)? I'm not too worried about cold temps, but I am worried about lack of water. If you could pick a date for this trip for this upcoming Spring-time, what date would you choose? I need to pick the date fairly soon, since my hiking partners will be flying in from out of town.
-I'm thinking one option is to keep the mid-April date and hope for more precip between now and then, and if it continues to be a warm/dry year, then we'll head to Death Hollow in Escalante instead (which I would normally probably save for a little later in the year when it is warmer). Does that sound like a good plan?

Thanks in advance for the help!