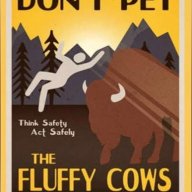 Joined

Mar 3, 2013
Messages

4,040
After the Yellowstone floods washed out our access to the Beartooth's, Scat had me send him some of the 50M routes I have in my archives...... we settled on a Teton Wilderness route I modified to fit 5 nights.
Day started driving to the Trailhead in rain, should say buckets of rain..... but by the time we started hiking in the rain had stopped (temporary).
But it was generally all downhill to Cub Creek ..... in MUD, the gooey, slimy, sticky kind. At least it was mostly downhill. Scat and I were worn out by then, well me a long way before that.... Then more RAIN .... I called quits at about 8 pm..... we were not going to make the preferred camp before dark. Good thing we stooped, found out my headlamp had turned on and was dead.... so my GPS receiver became my light for the trip. All was good cause I reigned in Scat to stop before dark after that....
Books Lake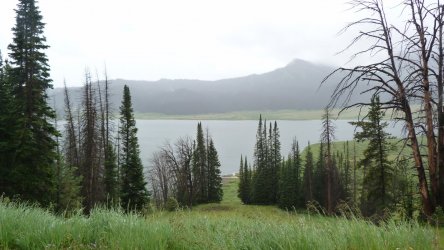 Scat contemplating a stream crossing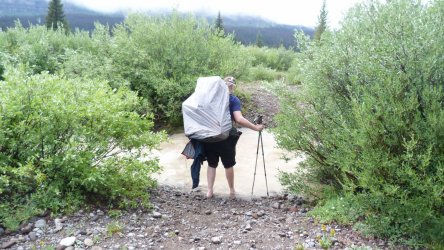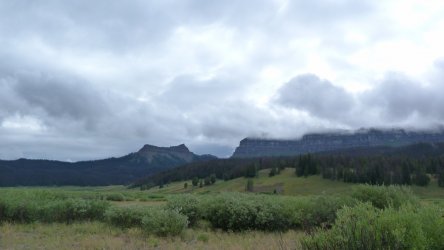 Rainbow Lake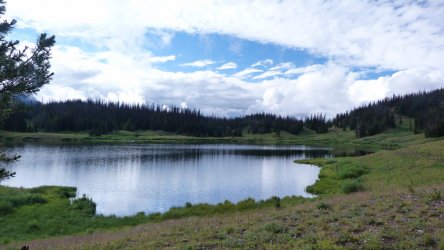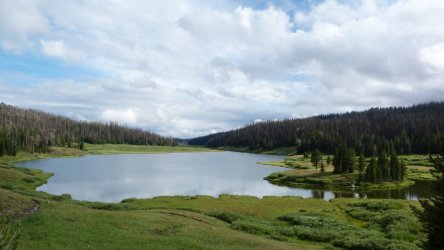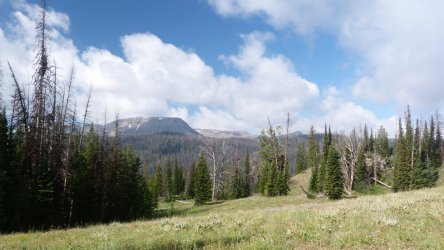 Did I mention MUD?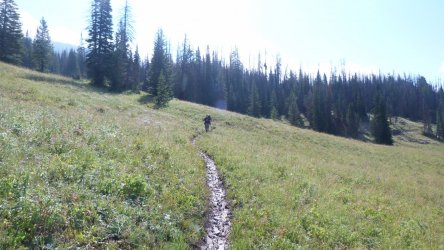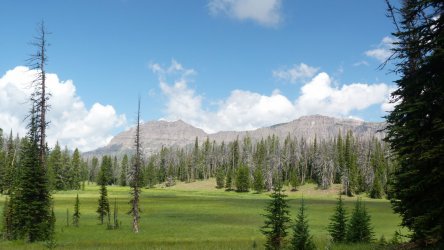 Into the burns, pretty much an all downhill day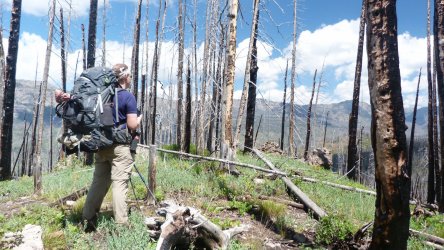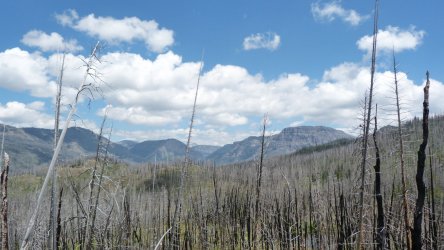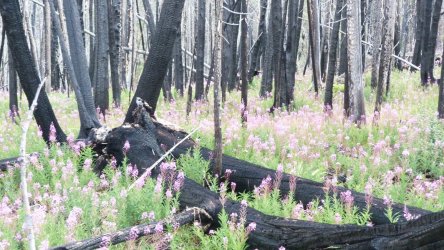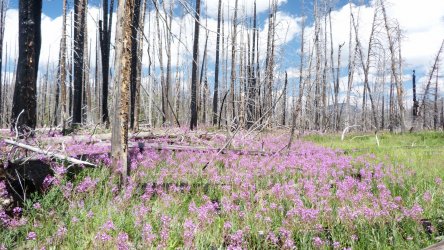 Scat requested the MUD shot, close to a bog but on the vertical side, about 45 deg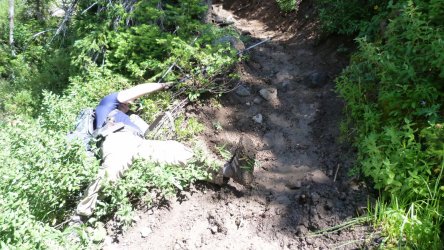 South Fork Buffalo River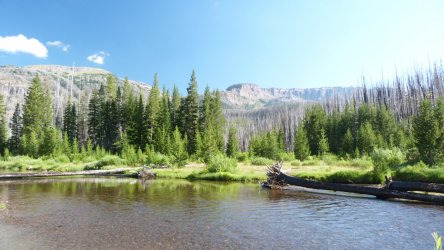 View from Night 2 camp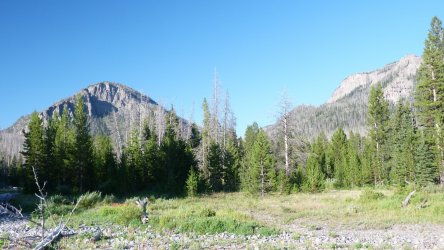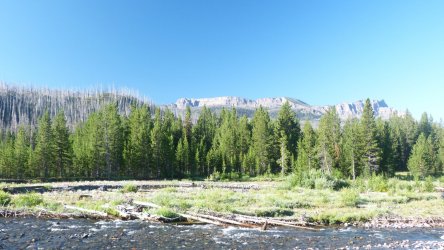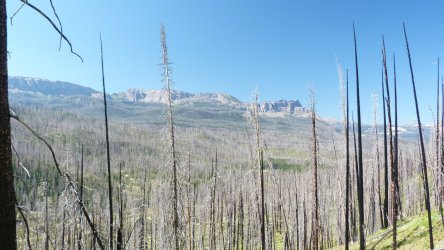 Climb out of the South Fork, an all uphill day, 2600 ft up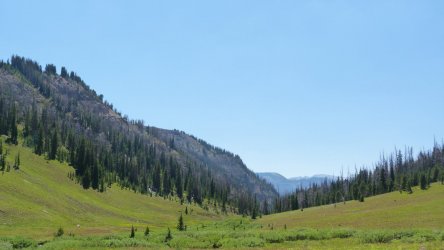 Ahhhhhh, finally at the top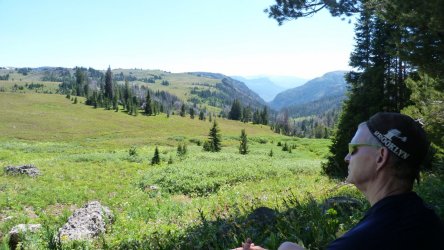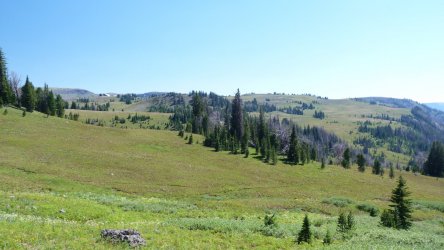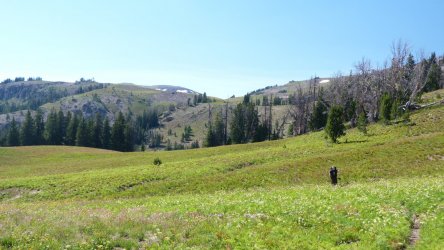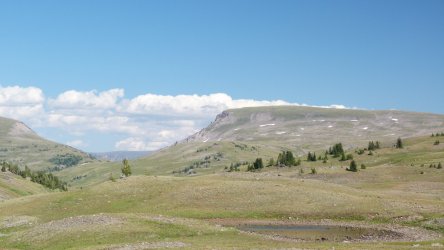 Night 3 camp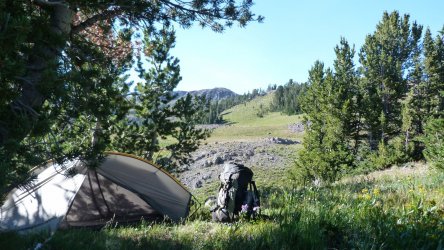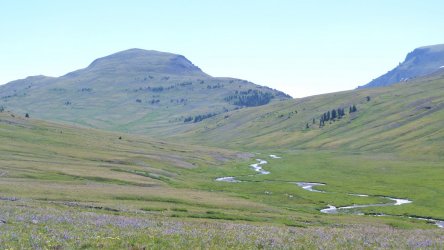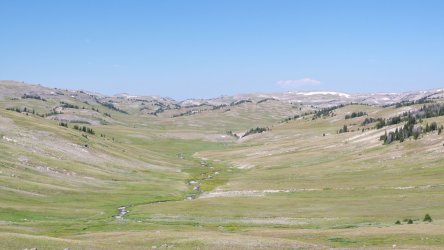 Unnamed lake South of Marston Pass. Had a church school similar to NOLS camped here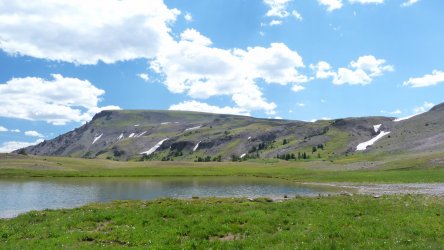 Up and up.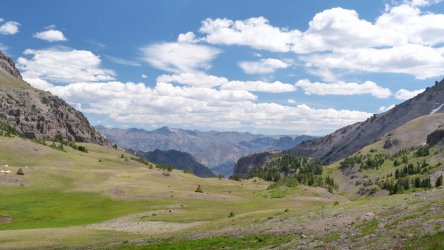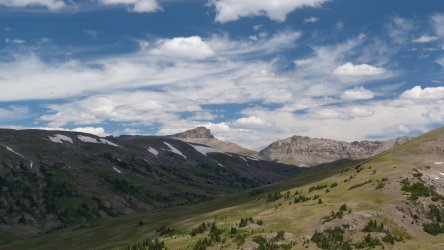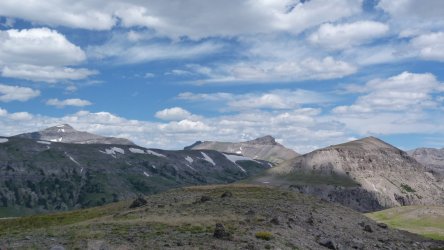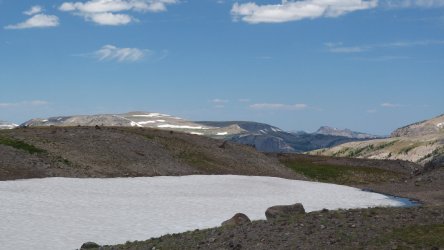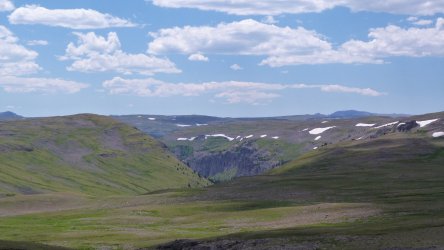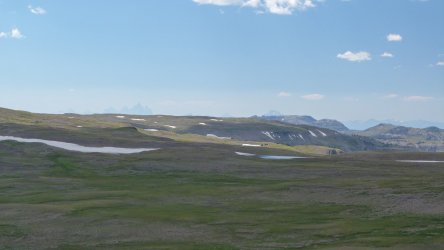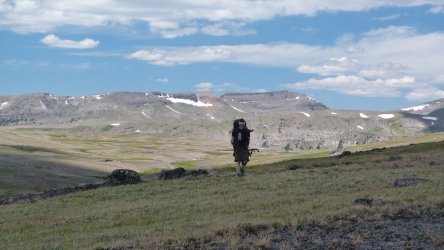 Camp 4, high alpine tundra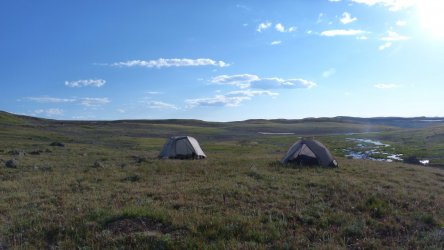 Morning visitors, total herd of 30 and two big bulls about 300 yds away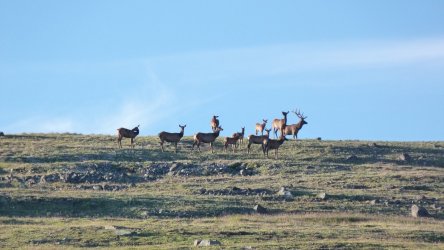 More up and down and up and down ..... 4 to be exact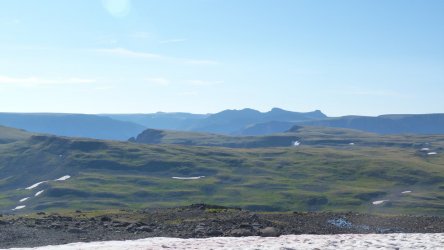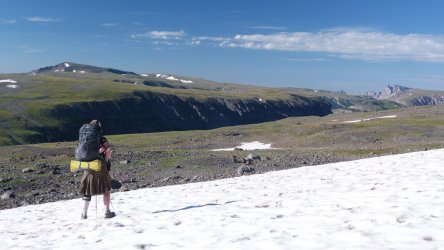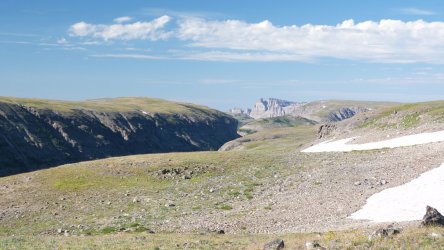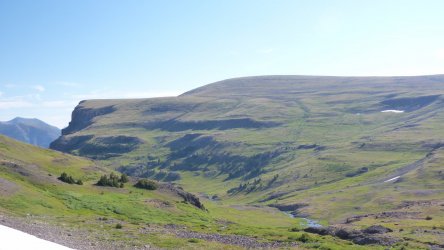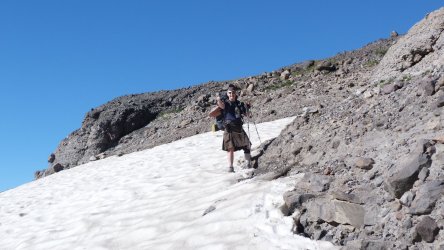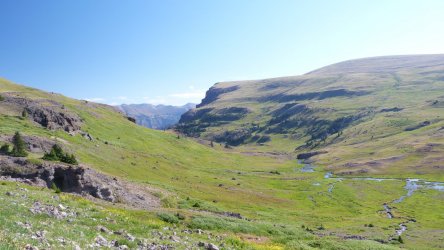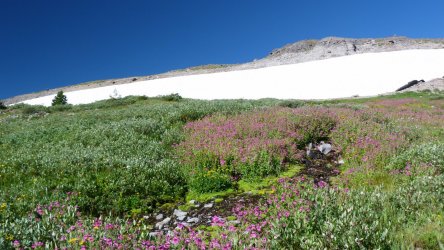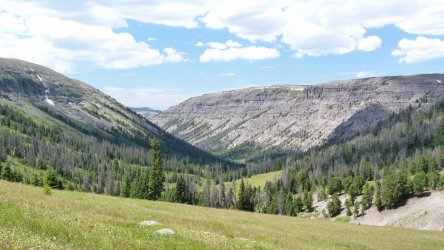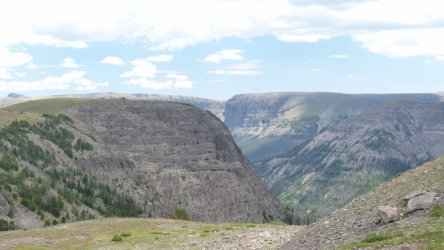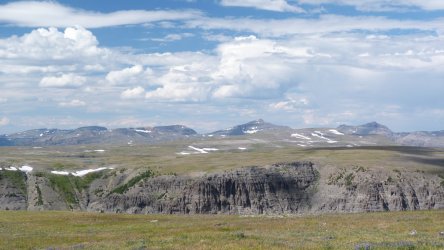 Camp 5, just shy of 10700 ft just below Cresent Mountain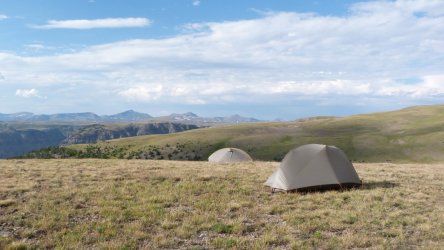 Last day, headed for our biggest downhill of 1650 ft, but there is always a climb back up (this one was 1150 ft) to Bonneville Pass. We bypassed another uphill and picked the easy, timber and downfall (elk trail luckily). In retrospect the uphill would have been better. Darn that Scat ......... might have been me, can't remember.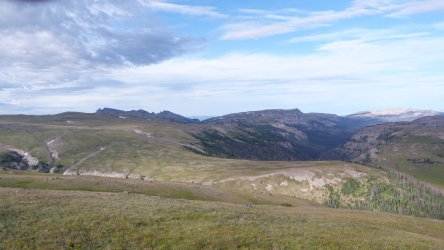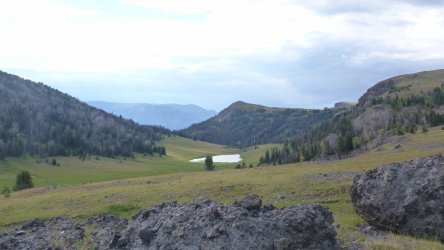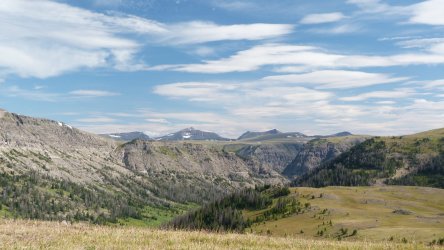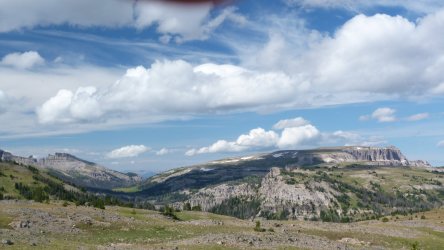 Down and down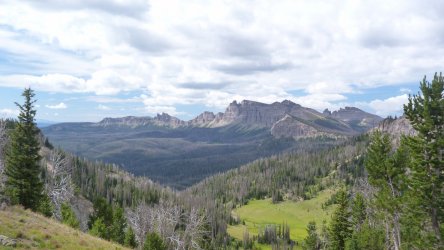 Headed to the Dundee Creek Meadows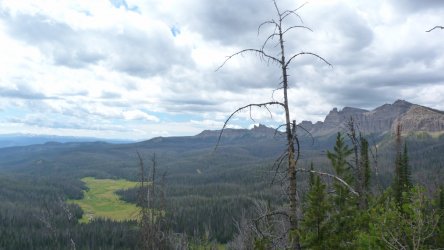 View west from Bonneville Pass.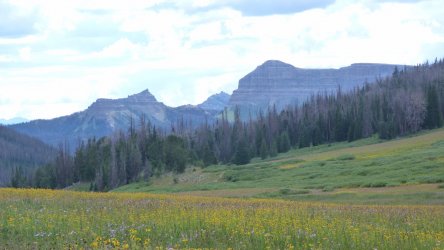 We could smell the barn from here, less than a mile to go, downhill !!!!!!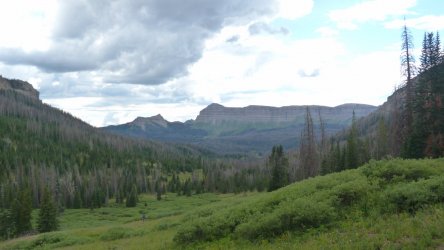 Scats impression of the trip, I think this is really close to a smile ( I tricked him)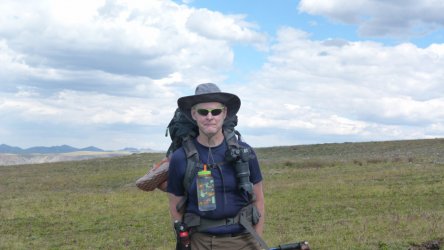 Did I say I hate MUD? I will never complain about a rocky trail again.
I plead no collaboration with any story Scat posts. what I say may or may not be true, can't remember. A great trip, excellent scenery, excellent company ... Now one of my top three places.