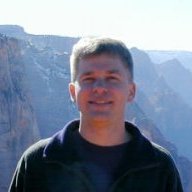 Joined

Mar 28, 2012
Messages

1,123
Over President's Day weekend 2018 my family (two adults, two kids 11 and 13) and our friends (two adults, one toddler) did a moderate day hike into upper Sidestep Canyon. Access is easy enough: you turn north from highway 89 onto access road K7065 at the east end of Church Wells UT and drive about 3.3 miles on easy 2wd dirt until the road decisively ends at a turnaround featuring a big sign labeled "GATE" where you can pass the cow fence.. You can
read more about K7065 here
. We didn't try out the upper access road, having heard it is now blocked off.
From the turnaround it is about 2 miles to upper Sidestep as the crow flies, but the track shown here ended up being more like 7 miles in total, according to my GPS:
Here the camera is facing due north. The hiking route starts/ends at the bottom left and upper Sidestep is at the upper right. After going around a hill and back down the wash a bit, the route follows a decent trail NE and then heads off cross-country due N. On the way back we tried to shortcut to the road but got diverted by the nasty cow lagoon I hadn't realized was there.
So basically it's a couple miles of this:
Accessing upper Sidestep isn't super easy or super hard, there are various ways in, all seem to involve steep clay and sand. Here the camera shows all of our route inside the canyon, this time the camera is facing south:
The slot-looking feature in the image is actually pretty deep, we didn't find a way into it that was comfortable for everyone on the trip (a big Osprey baby backpack was involved). It would have been nice to find a way into the lower canyon but given a short February day, a late start, and slow hiking (the toddler often wanted to walk on his own instead of being carried) we didn't have time anyway.
As for the canyon, it is a pretty surreal place even by Utah standards.
Up on the flats one of the boys found a worked piece of stone, perhaps part of a scraper: