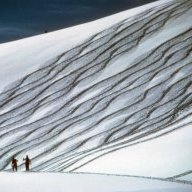 Joined

Oct 17, 2012
Messages

367
So....Here we are, another day in Page AZ. Where should we go today that will excite us visually, but......have no people. I got just the place. An area I had planned on exploring a few years back, but got thwarted by a ridiculously windy day. You know the kind of day. Sand in your hair, ears, eyes, mouth, well... you get the idea.
OK... If you started at the Cockscomb, (that cuts across hwy 89), and went all the way east to Big Water and Wahweap creek, you will find one of the largest concentration of hoodoos and toadstools in the state of Utah. All on the north side of 89. I had been to the Wahweap Hoodoos and some of the rimrock toadstools, but the place I was thinking this time is north of Church Wells. A booming metropolis between Big Water and the Paria Guard Station. The area is known as the White Rock Valley. A nice little BLM road takes you north until you can go no further than the fenced turnaround. There is one main feature in this area that sticks up like a sore thumb. Chimney Rock. We decided we would start our hiking to the west side of this feature and see what we could find. Trails????? We don't need no stinkin trails!!! Many cow paths to follow, keeping us off the crust, as we made our way north into some superb little cuts in the cliffs. We are the hoodoos hunters! Here's a few shot's of this "No Man's Land".

Toadstool rubble
A French cap
I wonder why they call it the White Valley?
Toadstool progression
Next Valley
The cobra

Bitch!

Drippy candles
Hoodoo envy
The crown
An impressive beast
Kinda looked like Dick Nixon's nose "I'm not a crook"
Chimney Rock makes an appearance
The twins (not really)
slick rock gulley
The chimney with his pet hoodoo

The sentinels of the White Valley
This is only a fraction of what can be seen if you have the time and inclination to explore these badlands just west of Page. Will be planning future exploration on the east side of Chimney Rock, into Colored Canyon and SideStep Canyon for more hoodoo hunting. (Some day soon) Definitely an extremely worthy day with nary a soul in sight.