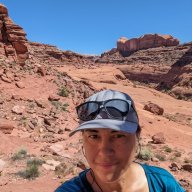 Joined

Jan 11, 2018
Messages

765
This past Sat I did a fun and scenic 24 mile loop out of Chimney Rock in Capitol Reef, which could also be done as an overnighter.
Route
Chimney Rock trail > Lower Spring Canyon > walk along Hwy 24 toward Hanksville > Grand Wash > Cassidy Arch trail > Frying Pan trail > Cohab Canyon trail toward campground > [optional ice cream stop at Gifford house] dirt path along road to visitor center > Sulphur Canyon back to Chimney Rock
The longer version is to include Upper Spring Canyon from Holt Draw (see
this trip report
).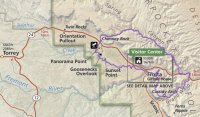 Logistics
Start/end:
Chimney Rock parking lot
Mileage:
~24 miles
Elevation gain:
not much
Navigation:
could get by with a paper map, follow the main wash at all times (there's signage at most major junctions)
Filterable water:
spring in lower Spring Canyon, Fremont River, Sulphur Canyon (questionable due to high mineral content)
Potable water:
campground, visitor center
On-route treats:
homemade pie and ice cream if Gifford House is open, u-pick fruit in season
Backcountry permits (overnight trips):
visitor center
Bathrooms:
Chimney Rock parking lot, Grand Wash eastern parking lot, campground, visitor center
Dogs:
not allowed
Nearest town/gas:
Torrey, UT
Report
I had originally planned to do this as an overnight, but decided I didn't want to deal with permits so just hammered it out. I got into my bivy spot fairly late and didn't get to sleep until 11pm. I left the trailhead ~7:30am. For the first 20 minutes out of Chimney Rock I had a curious (but non-aggressive) coyote play leapfrog with me along the trail.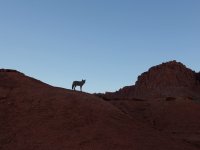 The sun had not yet hit Spring Canyon, but when it did the walls lit up.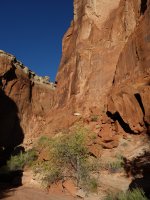 At one point you leave the canyon bottom to bypass a series of pour-offs.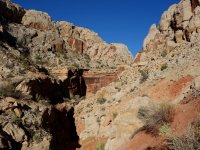 Then return to the canyon bottom.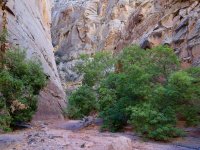 There was a hint of color in the leaves, but it would still be a few weeks before fall foliage set in.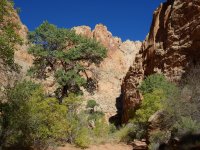 I was somewhat surprised to find quite a bit of water in the canyon with this year's drought.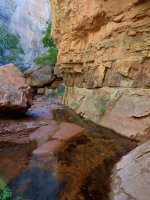 It was starting to get warm, so the shady canyon was welcome.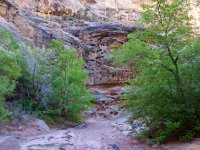 The canyon opened up again as I got closer to the Fremont River crossing.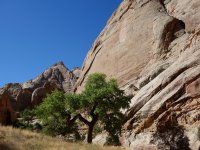 This was the final stretch before the minor bushwhack through the Phragmites grass to the river.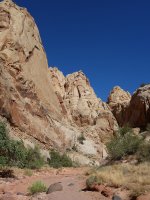 Once I entered Grand Gulch there were people, a lot of people. I sped up (as I tend to do in crowds) and didn't take many photos. :]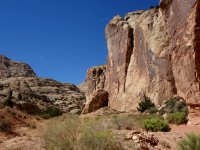 Before the end of Grand Wash I took the trail up Cassidy Arch. It started to get quite warm. Once I turned onto the Frying Pan trail I left the crowds behind.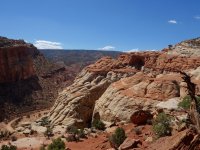 Once you crest the plateau the views are spectacular.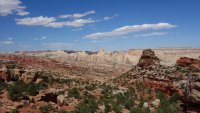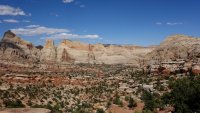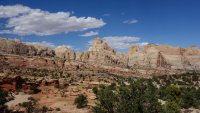 By the time I reached Cohab Canyon I was starting to drag b/c food wasn't appetizing and I was out of water. Fortunately, I only had a short distance to go before a water pump at the campground and ice cream (!) at Gifford House. I took a long break to replenish food and fluids. From there I took the dirt path along the road to the visitor center. Sulphur Canyon starts behind the visitor center.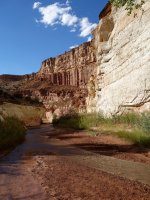 There were a few short scrambles to bypass waterfalls. The canyon was far more spectacular than the trip reports I had seen online.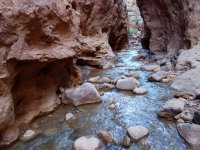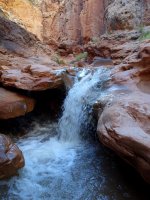 After exiting on a dry fork of the canyon, I finally reached the Chimney Rock trailhead and my car. I had time to grab a yummy burger at Slackers, and was awake enough to drive the 3 hours home.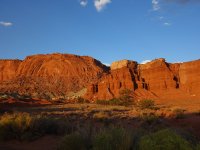 Last edited: