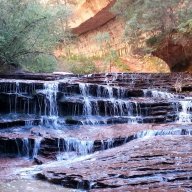 Joined

Dec 23, 2018
Messages

516
the permits will be released on a month-to-month base. So check the calendar on October 15 or 16. It's the same thing as it is with the shuttle tickets.
I still hope I have no huge damage in my knee so I could do a November trip to the Subway. But probably too early anyway.
Thanks for the info. I was kind of thinking that may be the case. Hard to believe you had the place all to yourself. Great for the solitude but sucks for assistance when you get hurt. Do any of the shops in Springdale rent the ACRs?