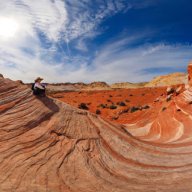 Joined

Aug 18, 2018
Messages

1,562
We just came back after a 4 day hiking & camping trip in The Adirondacks. We prefer quiet ponds as compared to the High Peaks region, which is very busy. We saw super cool reflections in ponds, a surprising nice sunset, plenty of mushrooms and we did some star gazing.
A colorful sunset after a complete cloudy day, Sept 1:
Wednesday on the first day it was cloudy all day, while the remains of the tropical storm Ida dumped a devastating amount of rain much to the south of us. We didn't encounter a drop of rain in The Adirondacks that day, but the skeeters were out in full force at the parking lot. Uh... But it was a beautiful trail, full of moss and some tiny roots here and there:
After a short hike we arrived to a beautiful pond with a few peaks in the distance. Rick immediately said, a kayak would be great here! We only met 1 guy from Vermont at the "Lean To" and he had some interesting stories from the "good ole days" before things got crowded.
We saw a few mushrooms too:
Back at the parking lot we didn't mess around, but got into the car quick between the many skeeters. Then we drove to a nice campground (without cell service), quickly set up camp, made dinner and headed down to the lake. Suddenly we started to see a little blue sky:
In a short amount of time the colors got beautiful, what a surprise. Also it was super quiet!
The next morning was beautiful, lots of sunshine, cool day, much lower humidity. And the campground was very quiet, few around, lovely!
We did a loop along several ponds:
At this pond we saw 3 loons, cool. We got a good look through the binoculars, but Rick didn't bring the telephoto lens. This spot is one of my favorite ones, it would be amazing for a swim, more on that later on....
And here's the pumpkin tree again, you have seen that before:
That evening we again went down to the CG pond and enjoyed a beer right at the water. We had a little rain that night. The next morning started out pretty colorful and the trail was full of "Eastern Newts" (Red Efts). We had to watch every single step to avoid stepping on all these little ones:
Plenty more mushrooms on that trail:
This is off trail at the end of a former trail, with minor bushwhacking. It had been mostly cloudy, but we lucked out with an opening and we really enjoyed this spot.
That was such a nice day and we didn't see a single person all day, Friday Labor day week-end. But that was about to take a drastic turn for the worse as expected.... But we really wanted to get this last night in, as it was going to be a clear night, very dark and no moon! That is just hard to get right in the North East. When we returned to the CG it was so busy and very loud, whoa.... So we left for a while, drove down to Lake Champlain for a few hours, got cell service, planned some week-end stuff with friends and had a sandwich at a nice waterfall. When we "re-entered the busy CG zone" we didn't even go back to our site, we went straight for the lake, layered up, to enjoy an evening with the skeeters under the stars. There was a beaver slapping it's tail on the surface, wow, their tails are powerful! Here's what Rick captured, a few persistent clouds messed it up later on:
We arrived late at our campsite and everyone was still busy, but it did quiet down some. Eventually..... The next morning it was sunny and warmer. And eh... the CG was just nuts! Can't say we had an early start, but that would have been wise, something to remember. We decided to head back and loop around our favorite pond, bring a telephoto lens for the loons. It was just a beautiful day:
This is where the loons always are- but no sign of them! It turned out they were hanging out at our favorite spot further on.
Eventually we arrived at the "Monaco Motel", partly held together by duct tape....
When we arrived to our favorite spot, 3 girls beat us to it by like 30 seconds. And the 3 loons were right there too! Hadn't seen anyone all day on the hike itself. So I quickly said, "hi-there" to not surprise them, they were getting ready to swim. We did watch the loons with the binoculars, but the photos didn't come out great. The loons took off, so we said goodbye to the girls and headed back. Later we again saw the loons and they were slowly making their way to the other side of the pond, where we had just been, close to the Monaco Motel, ha...
We made coffee at the lake, cooled the feet off and then took the scenic tour back along Lake George. Happy we went away for a few days!
Last edited: