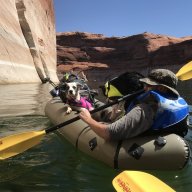 Joined

Mar 11, 2019
Messages

8
We (my husband, myself, and our four dogs) did the "Lower Escalante Trifecta" as originally reported by
@BJett
. Thank you
@BJett
for your post!!! We used a regular map, Gaia, and the picture included in BJett's post, and I did not record anything to save phone battery. The only tricky part is coming out of Davis and heading cross-country to 50 mile, and we eyeballed that based on the picture of the map, and looking at Gaia.
We are new on Backcountry post, and this trip was in late August/September of 2018. I'm not a huge fan of sharing locations (ie we deleted instagram....that's a long digression), and I'm sure many of you feel that way. However, this is where I find a ton of good info, and I love this website, so I want to contribute to the wealth of outdoor adventure info on here. We backpack almost every weekend if we aren't skiing, so as long as I don't get too much hate for packing with a pack of dogs, I'll keep posting.
We started out in Willow Gulch. The puppy was so little that we let her run it out, and then put her in the papoose as soon as she looked tired. She actually didn't mind, believe it or not.
Sometimes, we bring way too much...but it's really the life jackets taking over the backpack. One for every one...
We camped at the end of Willow, where it meets the escalante. Took out the packrafts for a test spin with doggies. We rented these, and I believe this is the kokopelli Nirvana. It fit one person and two dogs plus a pack just fine. Weighs 9lb I believe. no issues with dog nails. We are in the market for buying a pack raft, should any one have any reccs?
We camped here. it's probably a common place for boaters to camp. We picked up trash, and unfortunately, there is a ton of graffiti.
The next morning, we paddled over to Davis Gulch.
Dogs did pretty well, but they would much rather be in the water the whole time, not in a pack raft.
See Davis's sullen face. lol, just kidding, that's just his face all the time. He's our only dog who barks at people, and he barked at the boaters we passed. None of them seemed to mind, and most of them offered us beer
We only have one dog who loves to swim all the time, and he's in the pool there. Princess Bell looks on. This picture was taken as we hiked into Davis gulch.
We must have hit the time of year just right. La Gorce arch is incredible. Most of the boaters stopped on the other side, and we only saw one other couple checking this spot out, and then heading back into their boat. It felt surreal.
Above is our view from our camp that night.
Then, we began the cross country hike from Davis to 50 mile gulch. I didn't record it. We may be able to dig out GPS coordinates if any one is interested and I can figure out what we labeled them. I have read that it is not possible to hike out of Davis Gulch back to HITR without technical canyoneering. Any one feel free to correct me.
We had to cool off in a few potholes on the way over. I would definitely recommend starting as early as possible to beat the heat. The rest of the pictures are in 50 mile.
Not sure what kind of moth this was. It was dead.
We dropped our packs and explored up the canyon in 50 mile, and it leads to a narrow section. We did not go all the way to the escalante because we heard thunder and bailed. It does look like it would be hard to get a good spot to take the pack rafts off and transition to hiking due to potholes. I would not recommend trying it, and I would recommend what we did, which was Davis over to 50 mile, and then out.
We saw one of these on the way out. Supposedly has the worst sting of all insects? I stayed away, and my husband took close ups. Typical....
Nerd alert. We couldn't get the paddles to break apart, so we walked out like that. We ran into an awesome group on hole in the rock road who gave us beer and took a family picture for us. The dogs would not pose, and wanted us to throw the stick, also typical.
Fantastic trip that I hope one day to repeat