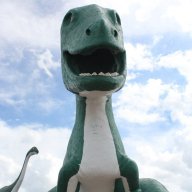 Joined

Oct 27, 2013
Messages

182
Oct 13-14, 2016
Part 1
here
Part 2
here

***
With the "rafting" part of my trip over, the "packing" part recommenced. After all the great things I'd heard about this canyon, my plan was to take it slowly and savor it over 2 days. Morning at my camp near the Lake Powell end was already off to a stunning start.
I briefly retraced yesterday's steps back toward the lake to enjoy the walls glowing in the morning sun.
I wondered how fast the water would have to flow to move this rock.
After stopping back at camp to collect my backpack and fill my water bottle at the natural spring pouring out of the rock, my hike upcanyon began.
Soon, I reached the entrance to the narrows.
Glorious morning light.
I took a few steps further, then looked up.
Looking back.
Somebody else had come up from the lake recently.
Taking advantage of the low lake level to do some growing.
The water was mainly ankle- to knee-deep, though a few places were a bit deeper. I was the first one through in a while, so the water was clear to see where to place my feet until I stirred up the sediment.
Thick, gloopy mud.
Gorgeous walls with natural seeps.
Other than the owner of the bare footprints and me, someone else had also traveled this way.
I came across this guy in the narrows. I thought about helping him out, but decided to let nature take its course.
One last photo as the walls began to open back up.
Waterfall above the top entrance to the narrows.
Looking back toward the narrows from the top of the waterfall.
I continued my hike upcanyon. The cobbles required some careful foot placement, but after my earlier thrash through the vegetation in Davis Canyon, I was grateful for the wide-open stream-bed.
The narrowest the stream bed became at one point.
Towering sandstone walls.
A small petroglyph on the wall caught my eye, so I clambered up to check it out; lo and behold, there was the "E. Ruess Hunters" inscription next to it! I knew the inscription was somewhere in the canyon but hadn't remembered to actively look for it, so I counted myself fortunate to have stumbled across it.
Canyon view from the ledge bearing the inscription.
Soon after, a side canyon branched off. I dropped my pack at the entrance, had a snack break, then grabbed my camera to go explore it. The sand was pristine, with no other human prints marring it. I wondered how many people had walked right past this branch without stopping to explore it.
Pothole filled with muddy water.
Mini-narrows, easily bypassed in the wider canyon above.
The strata changed into this awesome red and white patterned rock.
Close-up of the rock flooring the canyon here.
No flowing water in the side canyon, but I came across this greenery bounding a seep just large enough to keep the sand wet.
Yet another change in the rock flooring the canyon. I was in a time machine, walking up though geologic time!
This boulder field impeded my easy walking, but of course I had to climb up to see what was on the other side.
What was on the other side, you ask? Why, this lovely short slot canyon.
Chokestone above the canyon floor, shortly before the large dryfall at the end. The walls were narrow enough to chimney my way up and see what was above....but five feet off the ground I reevaluated the wisdom of that idea. Being solo, I reverted to my "play it safe" mentality and reluctantly came back down.
Tenacious tree, growing out the steep canyon wall high above.
After shimmying back though the boulder field (I discovered an easier path to go under it, rather than over), I encountered this geologic contact where the middle bed was tapering out. It appeared to be the three strata that progressively floored the canyon on my walk up! I love putting my finger on the contact between beds, imagining just that one moment frozen in time.
The three strata, looking downcanyon. Look how quickly the middle bed thickens from mere inches to several feet thick.
After geeking out over the interesting geology, I resumed retracing my steps back to my pack.
Soon, I was back at the main canyon.
A few trees held a hint of autumn color.
After a bit more walking, the walls opened up into a wide sandy bend. As I dropped my pack and stood contemplating setting up camp early, I heard voices, the first all day. A group of 3 canyoneers was passing though, from Mumbai Canyon one of them mentioned, on their way back to town that night. After a few minutes chatting, they continued on their way, and I again had the canyon to myself.
I had made such slow time earlier in the day with my many stops, sidetracks, and lingerings, that I calculated I was only 2 or 3 miles from last night's camp. With several hours of light remaining, I had plenty of time to hightail it down to see the narrows again, this time in a different light, then make back to camp before dark. So, leaving my heavy pack behind, I set off at a brisk pace. Well worth it!
Back at camp. There was a lovely spring-fed pool along the canyon wall, with the accompanying "drip....drip...drip" as droplets fell from the wall to the pool below, while frogs serenaded me with their croaking.
Cool channel cuts in the sandstone wall, as viewed from my camp.
I squeezed the last bits out of the light and explored around one more bend upcanyon. This interesting layer in the center of the picture paralleled the beds above for about a hundred feet, then abruptly dived nearly 90 degrees at either end.
I turned around just before the sand dune, leaving just enough time (with a little more poking around on the way back to camp) to start dinner cooking before darkness fell.
Once again, the next day dawned slightly cool and sunny. Another perfect day for hiking. After packing up camp, I shouldered my pack and started my hike out the canyon. My goal was to return to my car by early evening, then meet some friends with whom I had recently reconnected who just so happened to have an overlapping trip.
Patterns in the wall.
Channel.
Alcove off to the side. Fairly small compared to many of the other ones I'd seen so far on my trip.
Inside, looking out.
Further along. Most of the water had dried up by this point, except for a few isolated areas.
I spotted another alcove off to the side, so of course I had to go explore it. Not far away, I stumbled on this petroglyph panel. As with the "Ruess Hunters" inscription, I was aware of its existence but I hadn't been actively looking for landmarks to find it, especially since my canyon descriptions were written coming from the other direction. This canyon was being good to me!
The arch.
Flowers in bloom.
Busy bee.
Rain drop impressions on the mud curls.
Squiggly bits.
As the canyon continued to shallow, I reached the cairned route out to bypass a dead-end at a dryfall. Of course I had to detour to see the dryfall, especially since the pristine mud curls indicated that no one else had passed that way recently.
The route out.
Looking down into Fifty Mile Canyon.
My landmark- Fifty Mile Point.
More cool geology!
Almost back to the road.
I made it back to Hole in the Rock Road, and the long walk back to Willow Trailhead to retrieve my vehicle. I debated whether to leave my big pack and just travel fast and light with my small daypack, or whether I should carry everything with me so I wouldn't have to drive back to get it. Being a Friday afternoon, I was mildly hopeful that I might encounter someone to give me a ride, so I opted to carry everything. I must say, this down-and-up part was not fun with a big pack.
After the second big wash crossing with another 2 miles or so to go, I decided I had had enough. I ditched my pack on a large rock on the side of the road, grabbed my last remaining water and my car keys (would have been bad to forget those!), and set off again. Not 2 minutes later, a truck rounded the bend. I must have freaked them out standing in the road with no pack and looking half crazed, but they generously gave me a ride back to my car. I didn't want to take too much of their time, so I just had them drop me off at the trailhead turnoff and walked the remaining half mile to my car. Thanks friendly people!
Finally, the end is in sight.
I headed off to meet my friends for one more night of camping, then one more easy half day of puttering around before my return home.
Continued in one more (much shorter)
part 4
...
Last edited: