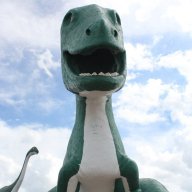 Joined

Oct 27, 2013
Messages

182
Oct 15, 2016
part 1
here
part 2
here
part 3
here
***
For the last day of my trip, I took it easy and did a few hours of poking around before driving back to SLC for my crack o' dawn flight home. I had just planned on visiting Dance Hall Rock, but one of my friends with whom I had met up for the night suggested I also stop by the dinosaur trackway off of Left Hand Collet Rd.
The open road ahead of me, heading back to Hole in the Road.
The "Dance Hall" itself wasn't too exciting, but I found lots of interesting details in the nearby rocks, like these small fault blocks.
Three-dimensional filled fractures.
Geologic contact.
Lots of vegetation-filled potholes.
Cross-bedded sandstone.
More sandstone.
Lots of life in the desert, you just have to know where to look.
So many places out there to explore.
Lonesome tree.
Twenty Mile Wash dinosaur track site. With the many spectacular moments of my trip, this part turned out to be one of my favorites. I sat down right next to a 155 million year old dinosaur footprint and ate Oreos (aka, my lunch). Oreos and dinosaurs, life doesn't get much better than that.
Dinosaur tracks...somewhere up there.
After looking around for 10-15 min, I finally found my first footprints. Once my eye was attuned, suddenly I saw many other tracks I had initially walked past without realizing what they were.
One of the best footprints.
Walk this way!
And my favorite tracks: see that vertical line down the middle, between the footprints? The dinosaur was dragging its tail!!!
A little bit of fall color to cap off my trip.
'Til next time, Escalante. As always, it's been great.