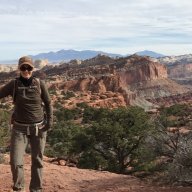 Joined

Sep 7, 2014
Messages

129
The argument that they've been there longer therefore they know better how to treat it right is a complete joke, IMO. It's their livelihood, so yes, they know how to run cows on it and stay profitable. That does not even come close to equating to overall land management with all users and the ecosystem's general health in mind.
Agreed. Such an insanely touchy subject...people can get very blinkered when they discuss land management and grazing in sensitive areas. Bovines are not exactly native to GSENM, but damn does the conversational fire explode whenever you try to point that out to anyone close to these grazing situations.
I'm a big fan of science knowing what's best. I'd like to assume a land manager with an education on managing that land is taking more into account than just the quickest, cheapest, easiest way to feed a cow.
I really think you're right on this in most cases. And...pressure, political and local community-driven, can be enormous on land managers in certain areas. Garfield County is well-known for having an extremely conservative and vocal town council. Luckily, also living in that county are some people with very vested interests in the land being conserved *not* just for ranchers, which I believe ensures there will never be certain land losses (i.e. unrestricted grazing, fracking, etc.) without at least huge battles being waged first.
View attachment 30035

I really thought the landscape in Kodachrome State Park was greatly improved by the addition of cattle. Just think if we let Utah take control we could have cattle around all our favorite locations.
Worst nightmare to see the state take control. That picture is just...yuck.
Okay, all of that was just my own opinion piece.
Here's an article I don't think I saw linked in this thread, though. It's about bison vs. jackrabbits affecting grazing in the Henrys, and a little anecdotal evidence that some minds are certainly open to science rather than just that's-how-we've-always-done-it. Published this past January.
http://www.sltrib.com/news/2080640-155/usu-study-jackrabbits-are-a-bigger