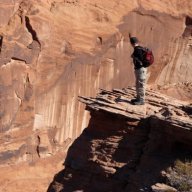 Joined

Jun 16, 2012
Messages

1,485
Do we already have a thread for news stories? I didn't see one, so here's one now.
Just a friendly reminder to hang on to your boots
http://www.nydailynews.com/news/world/thief-steals-mountain-climber-boots-summit-article-1.1841514
A mountain climber had to be airlifted to safety from near the summit of Mont Blanc after a thief stole his walking boots, police said.
The Alpinist was reportedly just a few hundred meters away from conquering the 15,781-foot peak — Western Europe's highest — when he woke up and realized his footwear had been pinched.
Unable to continue from the Gouter refuge, which stands at 13,000-feet above sea level, he was forced to call mountain rescue services.
They scrambled a rescue chopper from nearby Chamonix to fly him to safety.
"When we find people in that situation, we extract them by helicopter," mountain rescue chief Jean-Baptiste Estachy told The Local.
"We don't leave them in their socks. It's pretty dangerous," he added.
The man, who has not been named, was trying to ascend the mountain from the French side of the Alps.