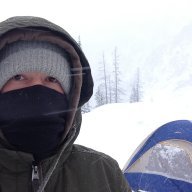 Joined

Sep 12, 2014
Messages

1,873
I liked the Careers of... thread so much, it made me want to do an other.

How did you first come to the outdoors?
How did you get started.
Or, alternatively, how did you come to the interest that you now have in it? What led you to outdoor recreation being big enough in your life that you spend your time not in the backcountry frequenting a forum about the backcountry.


I remember the first time that i ever went to the wilderness. I must have been about four years old, because i remember that I hadn't started school yet, but i was old enough to walk a mile or more on my own. My Dad walked with me just to the Sawtooth wilderness boundary. There was a sign there, marking it. And I remember that he told me what wilderness was. A place without motors, etc. I thought it was a cool idea. There was also a giant rock there that i climbed on top of. And i remember that i had a box of raisins as a snack. It's more detailed than most of my memories from that long ago. My Dad might be entirely responsible for my relationship with the outdoors. When i was a little older he started taking me and my brothers backpacking. It's difficult to say if i would have come to it without him.
After high school there were a few years that i didn't get out as much. Distracted by having a girlfriend, or a job, or what ever. I didn't realize what was really important. Then one year, i payed off my car, and had some time that i didn't have to work. So i did a two week backpacking trip. And it was really that trip that led me to realize how much i loved backpacking, and took me to where i am now, where all i'm really working toward is getting out more. That made it a focus in my life.

Any way. I know that not every one grew up with this like i did. I've talked to some people, and their stories always interest me, either way. Lets hear some others?