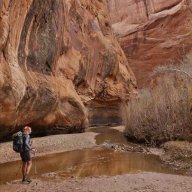 Joined

Jan 4, 2015
Messages

2,002
For me, it started with trains.
I've always had a fascination with trains that I've never really grown out of. I'm a bit bookish, to put it kindly, and read/devoured everything I could on the subject as a kid. And of course, everyone knows that mountain railroading is the most interesting kind. Helper engines, bridges, tunnels, the whole nine yards.
Out of the interest in trains, I guess, grew an interest in mountains writ large. Living in the midwest, I had no access to the mountains, but I dreamed of visiting places like the Appalachians and the Rockies. During my freshman year of college, me and a couple friends went dumpster diving at the local Krispy Kreme at 3AM one night, and sat around eating reclaimed donuts and discussing spring break plans. We settled on the Smokies.
Like
@AKay09
, our trip went more or less terribly. It snowed like the dickens, I got hypothermia, my buddy dropped his shoes in a raging creek, and we all carried 60lbs of crap. Canned foods, an axe and saw, and all the rest. But although the trip was a bit of a disaster, it was still fun - and while looking at park maps, the Appalachian Trail caught my eye.
Again, I'm a bit of a nerd, so I started reading everything I could about the AT. And the more I read, the more I wanted to do it. I went to Spain my sophomore year, where there were some small mountains virtually in my backyard. I enjoyed hiking there too - simple dayhikes to be sure, but still a revelation for me. And at the end of my junior year, I saw a posting for an internship (in a field I wouldn't otherwise be interested in) in Salt Lake City, Utah.
I didn't know much about Salt Lake. I knew they had the a mountain range called the Wasatch (because the Union Pacific 4-8-8-4 Big Boy class was built in large part to haul trains up the 0.82% grades in Weber and Echo Canyons), which I guess made sense, given that they had hosted the '02 Olympics. So what the heck. I wasn't interested in the job necessarily, but I was a Philosophy major with zero career prospects at the end of my junior year, and spending a summer out in the mountains sounded like a lot of fun.
Long story short, that summer in Utah changed my life. Every week I'd go hiking. Lake Blanche. Deseret. Broads Fork Twins. Olympus. Timp. Lone Peak. The Pfeifferhorn. And on the way back east to start my senior year, I climbed Kings Peak and tooled around in the Tetons.
I did the Appalachian Trail the following spring, after graduation. I was still very green, having taken three backpacking trips ever, two of which ended in bailout. But I made it and learned quite a few lessons along the way. Most importantly, I learned that I truly enjoyed the outdoors and the act of traveling thru the wilderness by foot.
Over the past four years in Utah, I've taken deliberate steps to improve my skills in the outdoors. I've lightened my pack, honed my navigational abilities, focused my mind, increased my logistical savvy. I'm still a newbie, but I'm learning. Some day I hope to be like some of you more experienced folks - you've been everywhere and seen everything. But the nice thing is - the process of gaining that experience is in itself a joy.