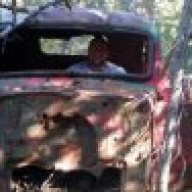 Joined

Jan 28, 2013
Messages

9
I was just checking out google earth researching for a trip up to the Cuberant Basin of the Uinta Mountains and I noticed this distinct looking "trail" up where it just seems odd for a trail to be. Also adding to the mystery (at least for me) is it just seems to cross this meadow from one rocky place to another rocky place, dissapearing at both ends. It's not marked on any map I've looked at and seems real tricky to get to for it do be so distinct. Also a measurement on google earth reads about 4 - 5 ft wide (maybe a canal? but an odd place for one). I found it most visible using the historic imagery from 8/27/2009 but it is visible on all imagery dates. Does anyone know what it is? Or has anyone been up there in person?
The trail is at the yellow pin stating "Mystery Trail", on the somewhat flat meadow above & NorthWest of Cuberant Basin.
It just crosses the meadow, disappearing in the rocky areas on both ends.
Google earth measurement of "trail", of coarse that's a wide "trail" but I'm stumped.