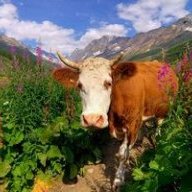 Joined

Dec 18, 2012
Messages

83
I have mentioned this place in my
Seealpsee
thread and I knew I have been there already, so I had to dig deep on my harddisk to find some photos.
It was back in 2010, on a nice day in June.
We went there with another family but without our children.
We started from the same spot as we did when we hiked the Seealpsee, but we headed left, so we passed the Seealpsee at a higher elevation.
Gaining elevation is easier here, because it's a real hiking trail and the sight is better.
Soon, the Säntis mountain comes into sight.
Nice little waterfall along the way...
Nice rock formation.
I can't get enough of the Säntis...
This is a paradise for cows!
Seealpsee from above.
My fried needs some rest. Or is he waiting for me beacuse I can't keep his pace?
Meglisalp. Isn't it beautiful?
After a quick stop at the restaurant, we headed down to the Seealpsee.
The trail drops approx. 300m (900ft.) in a short distance, part of it in a rock face.
The trail meanders down.
I get by with a little help from... a steel rope.
Finally, we reached the Seealpsee.
Do you see the paragliders in the sky? This is a very popular area for paragliding.
Thanks for watching!