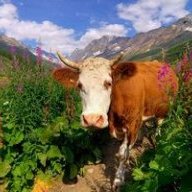 Joined

Dec 18, 2012
Messages

83
It has been a while since I last posted a trip report so I thought I could now show some pictures of one of my most recent hikes.
Last year, our daughter asked us for good hiking spots, which was quite surprising as she never wanted to go hiking when she was younger.
When she and her boyfriend told us that they are going to the Seealpsee, my wife and me happily joined them.
Seealpsee is a mountain lake which lies in the Alpstein massif in the canton of Appenzell, in eastern Switzerland.
While the name Alpstein might not be very well known outside Switzerland, some of you might have heard of Säntis, which is the highest and best known mountain there.
Unlike the central alps, the Alpstein massif consist of limestone, which has many tectonic folds, as you will see later.
It's a rather short hike and the region is quite poular but it's still better than sitting at home (sitting at home is also a reason why I come up with this report, as I have plent of time now).
It was on a sunny Sunday in September, so the parking lot was packed with cars. Most people took the cableway to the Ebenalp (a very popular place) but there were still enough hikers heading to the same spot as we did.
We started on a paved road, which later turned into a gravel road with some quite steep sections.
After gaining some height, it started to look more promising.
Now Säntis comes into sight, that's the mountin with the antenna.
And soon we reached the lake, which was still in the shadow, although it was already close to noon.
We didn't spend much time at the lake and went on, in search for a nice place for a picnic, somewhere at the end o f the valley.
I love to sit on a rock and eat sausage, cheese, bread and, of course, chocolate.
From this point, you have the option to turn left and follow a narrow and steep path up to the Meglisalp, a very beautiful spot which would be worth another report.
If you continue following the path at the end of the valley (where we stopped), you reach another alpine meadow called Mesmer, from which you can hike up to the Säntis.
Other people also seem to like rocks.
A quick look back, the lake still in the shadow.
With plenty of time, I looked around in search of good photo motifs.
One time, I want to hike up to this mountain hut, it seems to be a really nice place up there.
Our picnic spot was near a cableway which is used to bring down the hay and probably also cheese.
Autumn crocus were everywhere.
Nice rock formation.
We heard marmots but couldn't see them. The only animal I was able to catch with my camera was this caterpillar.
It's always fascinating to see how namy plants are growing on a small spot.
After a while, we returned to the lake.
There was a cheesemaker selling cheese so I couldn't resist and I had to buy some.
After having a coffe at the restaurant, we headed back to the car.
It was rather a stroll than a hike but it was still enjoyable. There are many worse ways to send a sunny sunday.