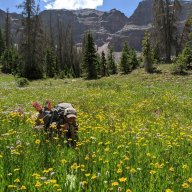 Joined

Feb 12, 2014
Messages

722
I know many of you probably have done this trip, but I didn't find too many trip reports on it, so you get mine!
This was done August 13-16, 2014 with our Boy Scout Troop from Saratoga Springs, UT. So for you scoutmasters looking for info on this trip, I hope this can help. Or for those that have done this, hope this will bring back some good memories.
First day we hiked from Henry's Fork Trailhead to Henry's Fork Lake, which was 9.6 miles. Some boys and probably a leader or two thought we tried to kill them going this far. But they lived, and learned they can hike that far carrying a pack.
Day two we hiked to Lake Blanchard for some exploration and fishing.
Day three we took some of the boys up to summit Kings Peak. it's a pretty strenuous hike, so we only took the ones that we knew could make it...and the one's we could deal with
Day four we hiked back to the trailhead.
Here's the start following Henry's Fork.
Trail? More like a road! This has seen its share of hikers.
Hanging on this tree is a moose skull...I believe it's a moose.
Very well maintained trail with small bridges over all the streams.
Elkhorn Crossing, about 5.5 miles from trailhead. We went right, the trail toward Bear Lake, most traffic goes to Dollar Lake.
If you look carefully left center you can see a young bull moose we found. We quietly crept away and went our way.
It was pretty cloudy this day, not much rain...just clouds.
I found this rock formation very interesting.
Found another moose, or it found us.
Here's a good look at the area.
Finally arrived at Henry's Fork Lake. We setup camp up this hill above the lake.
Here's our camp. Mine is the green tent on the right.
Day two we hiked up to Lake Blanchard. This was a really pretty water fall, and it did have some small brook trout in it too.
Closeup look at the top of the waterfall.
Better look from the waterfall to Henry's Fork Lake.
Lake Blanchard...fishing was good, not great.
This was cool how the cliffs crumble away. In the distance is Island Lake on the left and Grass Lake on the right.
Back at camp, and you gotta love the alpenglow in the mountains.
Day three is the hike to the top of Utah. Here's a little cabin along the way to Gunsight Pass.
Looking up Gunsight Pass.
Looking back towards Dollar Lake.
At the top of Gunsight Pass looking into Painter Basin.
Normal people go down into Painter Basin and back up Anderson Pass...not us! We took the trail less traveled and headed straight to Anderson Pass.
Looking back toward Gunsight Pass. That summit didn't have a name on my map, but is 13,263 ft high.
Anderson Pass, this is all rocks from here to the summit. Good hiking boots are a must here. You barefoot hikers better take a pass on this one! And there would be the occasional stream beneath the rocks that you could pump water from if needed.
Looking up towards the daunting scramble to the top. A trail shows up here and there, but you just go up...no trail is really needed.
Here I am at the top! 13,528'
FYI...I work at BYU and these Nike Hypercool shirts are amazing for hiking. Vents/mesh in the armpits and on the back...highly recommend them (i have two).
Headed down...this is looking at Painter Basin, the Highline Trail from North Pole Pass in the far distance to Fox Lake and Kidney Lakes. And that's Lake Atwood on the right.
And for the return trip, we took "The Chute" (thanks
@WasatchWill
for the correct spelling). This is as steep as it looks. This is about 1/2 mile and about 1,200' of elevation. It bypasses Anderson Pass and Gunsight Pass. There are some videos online of people that have hiked up and down this for the fastest possible route to Kings Peak.
This is about halfway down.
And looking the other way toward Gunsight Pass.
Looking back up, almost down!
And we made it...and lived to share this with you all.
Hiking back to camp.
Obligatory flower photo.
Day four we are headed home.
Looking back at some stragglers and Kings Peak.
Almost there, looking at this area near the trailhead, you can tell some sort of bug made it's way through these trees making this area ripe for a fire sooner than later.
And we made it.
Great trip, it was about 30 miles for those of us that summited King's Peak, 20 miles for the others. We could tell there were others in the area but no one was too close to us by Henry's Fork Lake. If you have any questions about this trip, feel free to ask.
Featured image for home page: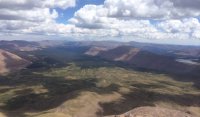 Last edited: