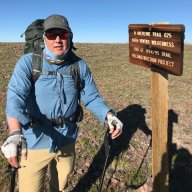 The mountains are calling and I must go
.
Joined

Mar 31, 2013
Messages

1,024
Considering a Lake Powell kayaking trip to prepare
for my summer trip river trip.
I know very little about Powell, the places to see, etc.
I want to do a 3 day 2 night (April 6-8) trip.
@Nick
I know you've done some Lake Powell kayaking.
I'm looking for recommendations are where to launch
from, where to camp, places to see, etc.
Are there any administrative things to know about
Lake Powell?
Thanks