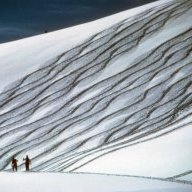 Joined

Oct 17, 2012
Messages

367
This was an interesting trip.... worthy of a report (I believe anyway) by foolish young men many years ago. I managed to dig up some pictures that I've scanned. Very limited on shots but enough to get a pretty good idea of this adventure. First week of June, 1981. (I stand corrected ....Actually first week of May)
My friends and I, had it in our heads, that we could float down the Escalante River from hwy 12 into Lake Powell. We would then paddle out of the Escalante lake arm over to the Hole in the Rock and then carry the canoes and our packs back up to the top. Our trucks and jeeps would be waiting to whisk us back into town to brag up our huge adventure. We assumed,(well at least a couple of us) that there would be plenty of water at the hwy 12 "put in" from snow melt off the Aquarius Plateau.... Similar to the snow melt out of the mountains above Steamboat Spgs in the spring. Also..We had camped down at the Coyote Gulch and Escalante confluence a few years back and determined water levels should be sufficient to pull off this crazy canoe trip. WRONG!!!! Once we got a look at the extremely low water level at hwy 12, we realized we needed a new plan. No one...... was in the mood, to pinball.. and mostly wade the canoes for half the trip downstream. So........ Here's our story.
Eight of us and four canoes left Steamboat for an awesome canoe adventure down the Escalante.
This is hwy 12 at the top.... between Torrey and Boulder. Somebody told me the hwy got paved later that summer of 1981.
After determining, that running the Escalante river form hwy 12 would be a joke. We decided... that if the Mormans could take wagons and such down the Hole in the Rock. We sure as hell could drag our packs and canoes down and then paddle into the Escalante arm. After all... we were planning on climbing out anyway. So....... here we go...... let's head all the way out to the HITR.
We got our packs packed and put the neccesaries in the canoes and each team of 2 started down the Hole In The Rock. That's a long freakin way down. Her we go.
We are severely suffering like proper Morman pioneers. But...with all the cussing, we decide to not call it a religious experience. Though..god's name was called out more than a few times.
The red canoe.
DOH!!! Bubba is down! Are we having fun yet? Maybe we can camp right here..
Yah baby we're getting there.
This is where it get's sketchy on the memory part. We explored the first 3 canyons of the Escalante: Indian Cr, Clear Cr and Davis Gulch. We chose one to camp in for the duration, and honestly can't remember which one it was.

Anyway we are on the water!
Heading up the Escalante
The Eagle has landed!!!
Water filters???? We don't need no stinkin water filters!!!! We got canteens!!!!
Bob make sure you get the water dripping from the creek.
No Bubba...you can't camp up in the ruins.
All righty guys let's go swimming.
Peewee surveying the scene.
We might as well go cliff jumping eh? :twothumbs:
The perfect ledge for whatever altitude you're comfortable with.
There goes Jakey!!
Bubba in fine form.
I believe we spent 3 nights camped in whatever canyon it was before we headed back up.. I remember we brought a frisbee and had the most epic games at the edge of the beaches in the canyon. The wind would carry the frisbee forever along the wall.
Moe had his lily white shirt from his sister's wedding in NM, and... thoroughly turned it black and muddy from diving for frisbees.
Exploring each canyon was epic. I think there are way more pictures but it might be a monumental task to find them from 1 of the 3 picture takers. (I am trying to get more history from the photographers)
Bubba and I almost swamped on our way back to HITR. We decided we would use the tent fly from our North Face Oval Intention for a spinnaker. High waves and wind almost did us in. We did kick everybody's ass getting back with that big sail. Scary ride though!
Cliff jumping was epic as you can see!
Believe it or not...I think we only saw 2 or 3 houseboats whole trip.
The hike back up was pretty much an "egg sucker" like we thought. Bubba and I picked up all the stuff Nelson and Peewee threw out on their way up. Nelson said "we don't need that anymore" like fry pans and whatever seemed to heavy to carry back up. It all ended up in our canoe. Last trip for you Nelson. Dick!!

We drove back into Escalante and went to (I'm sure of this) a bar that was on the eastern and north side of town on main St. (many people doubt me on this. No bar in Escalante they say. But I know this to be true) When we walked in, all the local boys looked at us and said "You environmentalists?" Bubba scratched his head for a second and immediately responded with 'Hell No!" Buy these boys a drink! Ice cold 3.2 beer and some rot gut whiskey tasted pretty damn good. They laughed their asses off hearing our story. Spent the night in one of the locals backyard and left the next day.
We had a pretty good laugh when we stopped at the Escalante river and walked down stream a mile to confirm how scrappy going down would have been.
This is about how I recollect this trip.

Probably a good thing there wasn't internet yet, to stop us from our folly. WOOHOO!!
Last edited: