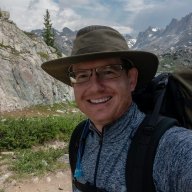 Joined

Apr 8, 2015
Messages

1,041
Thought I'd throw up my pics from the trip I did with
@Curt
and 3 other folks last month. The weather was rainy and cool this morning, so I stayed inside and edited pictures for the first time in a while.
Not going to go into too many details since Curt did a fine report that can be found here:
https://backcountrypost.com/threads/wind-river-range-july-2018.7899/
But the basic outline and details are as so: We did 4 days/3 nights out of Elkhart Park. The weather was quite warm, mosquitoes were fairly aggressive, there was a bit of snow still left once we got to higher elevations around Island Lake and the basin. This was probably one of the most fun trips I've done. Good company, good weather, and the route itself wasn't particularly challenging, though we were plenty tired at the end of each day anyway. There were backcountry rangers assigned to patrol between the trailhead and Island Lake, and it seems they are needed since the area gets so much traffic now. There were fire rings everywhere, most camp sites were well worn, and we saw several groups that were 10+ people. I had not anticipated how hard it would be to find suitable campsites for a group of 4 tents, but we were able to find places.
On to some pictures.
I took very few pictures for the first day and a half. I've been to the Island Lake area four times over the past 11 years, so the trail up to Seneca is... kind of boring to me these days. Of course, obligatory Photographer's Point pic, for an initial trip establishing shot.
Sunset view from Seneca Lake the first night (EDIT: This was from sunrise the second morning. Oops.)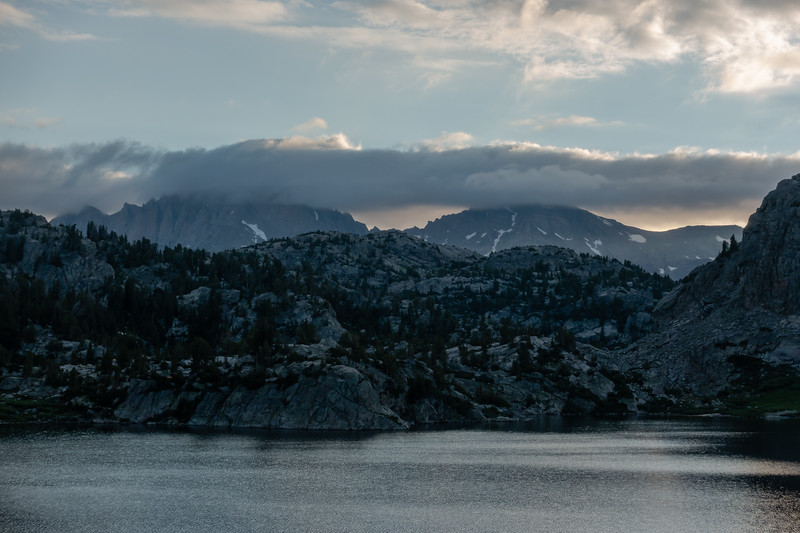 The second day we hiked from Seneca, made camp at Island Lake, then dayhiked into the Titcomb Basin.
First view of Island Lake and surrounding area. It never gets old coming over the hill to this view.
This dork needed a shave
Curt photographing on the way to the basin
The Titcomb Basin never gets old
We didn't make it as far into the basin as I'd hoped, but far enough. Anyway, the clouds were gathering pretty fast. As we headed back out storms built up. We missed the worst of it but still got some pretty good hail for a few minutes. A high mountain trip doesn't feel complete to me unless it hails at least once.
(Cue the Monty Python) RUN AWAY! RUN AWAY!
We got a pretty nice campsite at Island. There were plenty of people around. Much more crowded than I ever remember it being, but it was still tolerable. We camped only maybe 50 yards from the spot where I camped on my first backpacking trip ever way back in 2007. Brought back some good memories.
The next day, we dayhiked to the inlet stream falls to Island Lake, then moved camp down to Hobbes Lake.
The falls were surprisingly worthwhile to visit. In all my times to Island Lake, I'd never hiked up to them.
Climbing the hill back out of Island Lake is always fun.
Sunset view near camp at Hobbes Lake.
Nothing special for pics from the last day's hike out. I ended up driving about 7 hours to get to the western end of Nebraska after hiking out from Hobbes Lake. Made for a bit of a long day.
Here's to more hikes in the future. Curt is always good to hike with and the rest of the group was excellent as well.
Last edited: