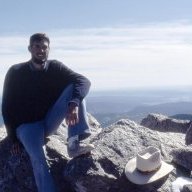 Joined

Feb 1, 2014
Messages

412
This was a trip from Elkhart Park to the Titcomb Basin. There have been many posts here for this trip but none recently so I thought I'd add another to the opus.
The Titcomb Basin has been on the bucket list for a long time. I made a trip up here several years ago on a long 4 day weekend with the idea of scouting out the area. The drive is more than 800 miles from eastern Nebraska by the shortest route. I didn't quite make it to Seneca Lake that weekend. It was an exhausting weekend and I decided that if I wanted to go to the mountains on a long weekend, the Colorado / Wyoming front range made a lot more sense. But my interest was piqued and I've been wanting to go back to the Winds ever since and especially to try to get to Titcomb Basin.
@b.stark
e-mailed me this spring to see if I was interested in going on a trip to the Titcomb Basin that he was putting together. I said yes and cleared the calendar. Our group came from all over to make the trip. A couple of us came from eastern Nebraska. A couple came from the Rapid City, South Dakota area, and one came up from Tucson. It was everything I had hoped for. I had my 63rd birthday on this trip and this was a great way to celebrate a birthday. Thank you again,
@b.stark
.
Tarn adjacent to Phtographer's Point. A lot of people at Photographer's Point.
I liked how it looked like the world just drops away. A lot of wild flowers blooming.
Seneca Lake
Sunset from camp at Seneca Lake.
The Milky Way was out when I looked out the tent at midnight.
Mars dominated the night sky.
The white blurs around this marmot are mosquitoes. There was a bigger cloud of them around me.
Janette taking in a last view of Seneca Lake.
This isn't a very good picture but I had never seen a Pika before. Boy they're cute.
I don't know what these flowers are but they're beautiful.
First view of Island Lake.
After setting up camp at Island Lake we proceeded up to Titcomb Basin. Brianna on the trail.
Brent said that he's been to the Titcomb Basin several times and it never gets old.
Jared testing the water. He said it was damn cold.
Red snow!
A storm came up suddenly and we tried to make an escape but it finally caught us and pelted us with pea to marble sized hail for about 15 minutes.
Evening back at Island Lake.
Morning. The peak is Elephant Head.
White-crowned Sparrow. These have a nice song, but this one started singing right outside my tent at the first hint of light - and didn't stop. It stayed around for a portrait.
Tarn near Island Lake.
There were some butterflies I've never seen before. This is a Weidemeyer's Admiral.
I think this is an Aphrodite Fritllary.
We took a day hike over to the water falls where the Titcomb Lakes empty into Island Lake.
View at the edge of the waterfall.
Evening at Hobbs Lake on the way out.
Hobbs Lake again.
View from Photographer's Point
Thanks for looking.
Last edited: