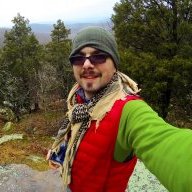 Joined

Jan 21, 2012
Messages

202
Quick overview. I'm a seasoned backpacker. Can easily take care of myself in that department. However, the highest I've ever been is when I was backpacking through Zion park a few years ago. (I'm from the midwest where anything over 1k is high.)
I'm flirting with the idea of taking some vacation time next year to come out west and bag a peak or two.
Looking for advice.
1. What mountains should I be looking at?
2. Whens the best time to do them?
3. What don't I know, but need to know?
4. Who want to join me?

Slightly related, at the end of next summer I'll be over in Japan for work and am going to try to climb Mt. Fuji. (Weather allowing.) Anything that gets me ready for that would be nice, but not required.
Thanks all in advance.