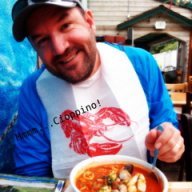 Joined

Mar 13, 2014
Messages

42
This is a TR from a jaunt taken last year. Thus, the descriptions of the trip will be brief because the details are no longer fresh in my mind. I attempted HCN twice, once on 5/7 then again on 5/21. The failed attempt on 5/7 was rained out. The weather was beautiful for the entire drive but it had rained earlier that morning. BTW, Bullfrog-Notom Road is quite a scare with just a bit of water on it. As I approached the trail head (regular one, not the shortcut) it was clear a storm was moving in and it was not a small one so I waited. It came in fast, dropped a lot of rain, and the temp. dropped to levels I was not prepared for especially with the possibility of wading in deep water in the narrows. Due to the amount of rain, I decided not to attempt Bullfrog-Notom road that night and just spend the night in my care, then leave the next morning. I'm glad I did because there was a brief break in the storm and I got a few cool photos:
White lines are temporary flows from the heavy rains:
Looking down on Brimhall Double Bridge:
I drove back home the next morning and that was it for that attempt. Fortunately, I was able to get some time a few weeks later on 5/21 for another try. This one worked. The weather was beautiful on day 1 and day 2. Day 1 was the drive down and hike to my campsite. Day 2 was the walk through HCN and back to camp. Day 3 was a walk back to my car and the drive home. No photos from Day 1 because I got off to a late start and was in a hurry to reach my camp location near the opening of the narrows.
DAY 2:
Some flora:
Entering the narrows:
A very large alcove in B+W:
Scenes in the narrows:
Desert mushrooms (the first I've encountered):
A cute little friend (it may be a one-sided friendship, he doesn't look happy to see me):
More flowers:
More narrows and me:
Out in the open on Hall's Divide:
A reflection in the stream near my campsite, sunset at camp and campsite:
That wraps up day 2. The walk the HCN was seriously enjoyable. The water was mostly ankle-deep, but in 5-6 places was waist to chest deep. The water temperature was quite cold, I assume from all the recent rain. The sky was deep blue and nearly cloudless. I think the temps were in the mid 80's. Hot enough for the cold, deep spots to feel great.
DAY 3:
The last day was just a pack-up, walk back to the TH and drive home. It was a nice day but VERY windy! Here are a few shots from the last morning at camp:
Pano sunrise across the Waterpocket Fold:
Tadpoles:
Flowers again:
Prickly Pear along the trail:
A few at fountain tanks:
A few small, short side slots off of Halls Creek:
This may be the slot to Brimhall Double Bridge, I can't remember:
Red Slide:
I had a few problems on the hike out. First, I was planning to make the short side-trip to Brimhall Bridge and found the side canyon and even got mostly there. Near what I think is the end, there is a fairly deep pool that was 5-8 ft. deep and at the end of that there is a large boulder. For those that have been there, how is this boulder surpassed to continue on the bridge? Perhaps by a chimney above the whole pool and over the boulder? I'm not a climber and wasn't able to figure it out so disappointingly didn't make it to the bridge. The second problem I had was caused by several hours in the wind. I was plenty hydrated but the wind just made my mouth incredibly dry and I couldn't overcome the problem no matter how much I drank. By the time I reached my car my mouth was painfully dry and swallowing was marginally difficult. I drank a load of water and drove off.
I made a stop in Torrey for a burger; I can't remember where I ate but I think it was across the street from Slacker's. It was delicious:
After some real food, drink, and time out of the wind I was still having some trouble swallowing and figured out what the problem was: Uvulitis. My uvula was huge and red. Large enough to rest on the back of my tongue. It was seriously annoying and took 3-4 days to completely clear. I should have photographed it, it was quite weird.
So, the trip was a success. I would like to return there for a longer trip and take some time to explore around Waterpocket Fold and follow Hall's Creek further down toward Lake Powell.
Featured image for home page: