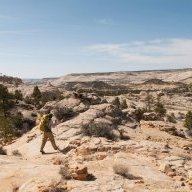 Joined

Mar 4, 2012
Messages

100
Here's a trip I took through Halls Creek, using Lower Muley and the Red Slide to poke a little deeper into the Waterpocket Fold on a three-night outing last fall. Capped it off with a twilight run (splash) through the HC Narrows on the last evening. A couple of other nice BCP reports have come out of the area recently, so I'll add this to the collection.
I pulled a permit late in the day and drove down to the Halls Creek Overlook and started down the trail hoping to at least get to the Hamburger Rocks in time for a few photos and perhaps even getting through the lower east-west leg of Lower Muley to camp there where it opens up. I made it to the Hamburgers with some light, but after lingering there for a while I ended up just setting up camp at the junction of Muley and Halls.
Day 2, I woke up and headed right up Lower Muley from the bottom. This is the slottly section of Muley that cuts east-west across the Waterpocket Fold.
Where Lower Muley cuts north, I exited up a drainage to the west right near the elbow. The watercourse eventually made for fairly rough travel and I climbed up to hike along the cliffs to the south. May or may not have saved me time, but it was rough, slow travel all morning either way. I had previously found some map evidence for an old road or trail in this side canyon. Certianly seems possible towards the bottom, but it eventually becomes pummeled with large rockfall and whatever route used to exist is hard to pick out. I had hoped to connect into this old pre-Park/Monument system of roads to navigate down towards Deer Point and beyond. Took some work, but I eventually found it when I stumbled on old road grades and relics of uranium operations.
I was mostly able to use that old road system to navigate south toward the Circle Cliffs and Red Slide. Just over the ridge to my west were the heads of the Moody Canyons of Escalante. From the Halls Creek side, there appeared to be a few good route options down into the Moodys. My only chance for water up there were some "tanks" indicated up on Deer Point, or making it down the Red Slide into Halls Creek that night. I decided to just be conservative on water and spend the night up in the Fold, hopefully getting to water in Halls the next day before I was too dried up.
I got an early start on Day 3 anticipating needing some time for routefinding through below the Circle Cliffs and down the Red Slide. If I could get down in time I was hoping to get through the Halls Creek Narrows that night but I had miles of Halls Creek ahead of me to get there even once I get down Red Slide. Turns out, it was slow going once again, with a few issues finding a good route. More interesting relics along the way.
Once past the area below the Circle Cliffs, a route down the Red Slide is fairly well worn with an old road grade and recent foot traffic. Probably makes for a good entry into GSENM canyons. This is the only section since leaving Muley where there was any evidence of recent visitation since the miners left their mark. From there I descended the Red Slide into Halls Creek.
Once down, my water had dried up and I was glad to find water (although iced over) in the Fountain Tanks. I filled up and headed down to the narrows. Above the narrows, I had to decide if I wanted to get wet that night and possibly hike back over the divide in the dark, or hit the narrows first thing on Day 4. I opted to run through the narrows that night. I dropped my camping gear in a small grove of Cottonwoods near the top of the narrows and took along a dry bag and extra insulation in case of any swimming involved. Kind of a shame to have to hurry through such nice narrows, but I wanted to get on the road a little earlier the following day.
I did end up encountering two sections towards the end that required swims. I dry bagged my clothes and got through it. Didn't end up stopping to get dressed again until the Halls Creek Divide, because I wanted at least a little daylight to get started on that route. Once I knew I was on route, I put the dry clothes on along with some extra insulation to kill the chill and headed north to make camp and cook dinner. I ate well and went to bed dry and warm, but woke up about 3:30 to amazing clear air and bright stars. On a whim, I decided it was time to pack up and hike out since I couldn't get back to sleep. In a few minutes I was packed and hiking back up Halls Creek in the dark. Eventually I did get tired and took several naps (slept 'till cold, then got up and hiked 'till tired, then repeat). Even with a few naps, I was climbing up to the Halls Creek Overlook by sunrise and I ate breakfast at my truck. Later, of course, lunch at the Sunglow Cafe in Bicknell, where all of my CRNP adventures end. Great long weekend hike; fueled the imagination for more routes down there in the future. Love that place.
Here's the route with 10-minute fixes from my Spot:
https://mapsengine.google.com/map/edit?mid=zbgpWqwR40vA.kxg8Fkoe1WWU
Featured image for home page: