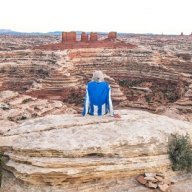 Joined

May 18, 2012
Messages

294
Halls Creek Narrows: Another place I'd got all planned to visit until storms stopped the plan a few years back.
But this time good weather was forecast and I had good company in the shape of Jack, Paul and Steve.
After much debate over whether to use the shortcut route, we opted for the longer one. The plus was that we got to find this spot near camp & we met nice people both nights at camp.
An early start - Paul was very proud of his filter coffee and we were grateful for it - and we headed for the far southern end of the Narrows to work our way back. I had hoped we'd have time to head up the slickrock to walk the rim and see some viewpoints looking down in. But we decided as it was going to be a long hike up to the tents later so we could run short on time as we were uncertain if there was a particularly good route to the rim that may take a while to complete. As it turned out we enjoyed the Narrows so much and went to slowly to take it in and get these photos that in hindsight the trade off for the rim would have been more rushed Narrows and less of these memories.
However, if anyone has shots from the rim please do post them as I've heard there are some great viewpoints and I've only seen a few great photos of the view from one spot on the rim posted from Nick's old trip on here. Would love to see more if anyone has spent more time up there.
Colourful walls straight off
Steve loved rocks so took a close-up of this beauty
The photos say it all really.
but let's say that after seeing the huge colourful walls of Paria years ago, Coyote Gulch and many nice canyons since, I knew I'd enjoy Halls, but wondered if afterwards I would regard it as not that special or different to warrant the effort and it's place on my must-do list. Would it be more of a ticking-off exercise? More of the same-ish or not quite as good?
Well, the answer is I was still blown away from start to finish - hence well over 100 photos.
Water, immense walls, often vertical, deep undercuts. Luckily my two "models" - sometimes small specks you have to look carefully in the distance for to realise they are there - showed the scale.
A distant hiker showing the vertical height again
One of the best undercuts I've been to
Not the prettiest photo, but hikers again show the scale
and again as Steve eats lunch
The view on the way back to the trailhead
But what it did mean was that when I did Lower Muley Twist in full a few days later it DID appear like a nice hike but not so special. Perhaps it didn't help that at one wash junction I took the wrong option which, with some late hunting around before finding the tiny hamburger rocks, I would complete 25 miles after 10 near non- stop hours and only beating darkness by 15 minutes.
But Muley Twist still had some colourful walls, and its own great alcoves near the end.
Two of the only four people I passed
Back at the trailhead, just beating dark was the most amazing pink twilight sky I've ever seen rising over the slickrock. I don't think this picture did it justice. It wasn't just pink clouds - the whole sky seemed to taken on a pink glow.
Shame the foreground for the shot was a restroom!