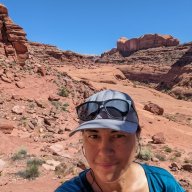 Joined

Jan 11, 2018
Messages

720
Logistics
Start/end: Todie Canyon trailhead / Sheiks Canyon trailhead (could be done in either direction, with or without a shuttle)
Mileage: ~19 miles


Difficulty: class 3


Navigation: Map/GPS may be useful. No signage in the canyons.
Filterable water: seasonal in Grand Gulch other than the intermittent springs
Designation: Grand Gulch Wilderness Area
Fees: $2 per person per day, or $5 for 7 days (self-service day use permits)
Nearest town/gas: Mexican Hat or Blanding, UT
Date hiked: 12 May 2019
Audio accompaniment: Preet Bharara's
Doing Justice
Notes: The ~7 miles of dirt road connecting the trailheads were mind-numbingly dull. Bike shuttle recommended. The old two-track main road bypass is not suitable for anything wider than an ATV. The road damage just before the Sheiks trailhead is significant, and impassible to most vehicles.
Approximate Route
Trip Report
After my
Slickhorn loop
and a decent night's sleep, I felt up to a longer hike. I had previously done Bullet Canyon to Sheiks Canyon loop; this time I decided to check out the northern section of Grand Gulch by linking up Todie Canyon to Sheiks. I parked just before the Sheiks trailhead and made the long walk through the skiddish cow herds to the Todie trailhead.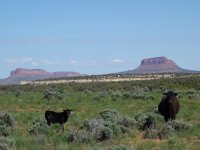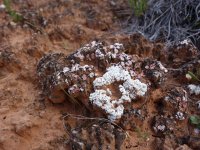 The Todie Canyon trail follows the rim a ways before dropping down a third class boulder field into the canyon.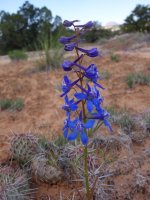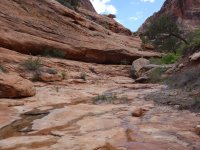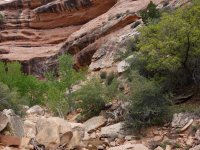 Todie quickly made up for the scarcity of ruins on yesterday's hike. A complex set of granaries sat high above the canyon bottom. A few were accessible with a bit of exposed scrambling, but the bulk were out of reach without some 5.7+ moves on sketchy rock. I opted out.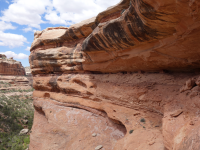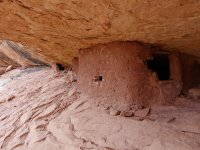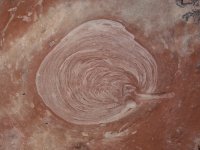 There were a few more isolated ruins in lower Todie. Once in Grand Gulch proper I headed down canyon and stopped by some of the multi-level ruins.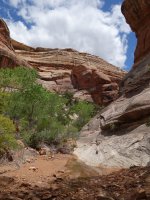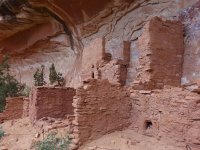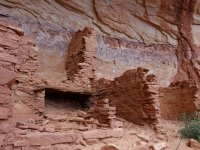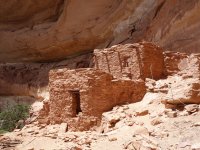 The vegetation was thick with the recent rains. The canyon was relatively quiet given the number of cars I saw at the Kane Gulch trailhead the prior day.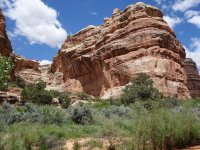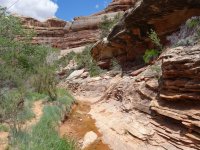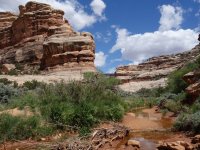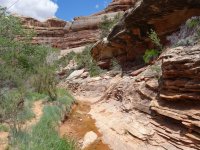 I passed Coyote Canyon and turned up Sheiks. Near the mouth of the canyon is the extensive pictograph panel that contains the "Green Man". At the nearby spring-fed stream I stocked up on water in preparation for the steep climb out.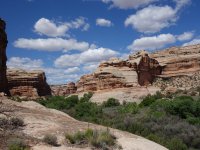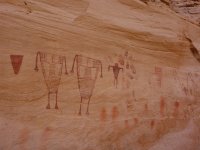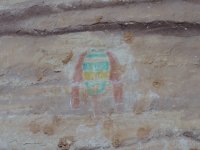 The trail climbed through some chossy third class sections and bypassed a water chute before leveling out.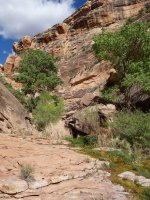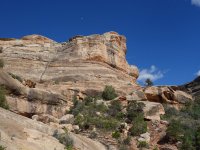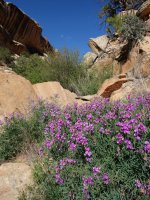 Near the top of the canyon I stopped by Yellow House ruin with its well-preserved roof. Before long I was back at my car. I made it to Stan's in Hanksville just in time to grab a coffee shake before driving the rest of the way home.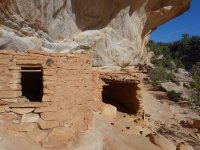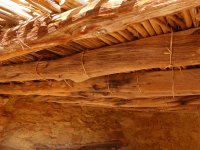 Last edited: